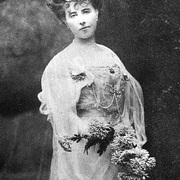 Elizabeth von Arnim
(1866–1941)
Coneixement comú
Nom oficial

Altres noms

"Elizabeth" (pen name)
Cholmondeley, Alice (pseudonym)
Countess von Arnim-Schlagenthin
Elizabeth Russell, Countess Russell

Data de naixement

Data de defunció

Lloc d'enterrament

Gènere

Nacionalitat

Lloc de naixement

Lloc de defunció

Causa de la mort

Llocs de residència

Sydney, New South Wales, Australia
Valais, Switzerland
London, England, UK
Berlin, Germany
Nassenheide, Pomerania, Germany
Charleston, South Carolina, USA

Educació

Professions

Relacions

Mansfield, Katherine (cousin)
Russell, Bertrand (brother-in-law)
Wells, H. G. (lover)
de Charms, Leslie (daughter)
Walpole, Hugh (friend)
Forster, E. M. (friend) (

mostra-les totes

8)
Earl Russell (2nd husband)
von Arnim-Schlagenthin, Henning August (1st husband)

Biografia breu

Born Mary Annette Beauchamp in Sydney, Australia. Married first to Count Henning August von Arnim-Schlagenthin, then to Francis, 2nd Earl Russell. Australia was the setting of the family's vacation home, and when she was three years old, they returned to England. After her first husband's death in 1910, she lived in Switzerland, England, and the USA, and entertained a large circle of literary and society friends. She produced some 20 novels, semi-autobiographical works, and memoirs, beginning with Elizabeth and her German Garden (1898), and including The Enchanted April (1922), which was adapted as a Broadway play in 1925; a successful film in 1992; a Tony Award-nominated stage play in 2003; a musical play in 2010; and a serial on BBC Radio 4 in 2015.

Nota de desambiguació

Also wrote under the name of Alice Cholmondeley, and in first publications only under her pen-name "Elizabeth"
Estadístiques
Obres

44

També de

8

Membres

6,756

Popularitat

#3,625

Valoració

3.9
Ressenyes

256

ISBN

733

Llengües

12

Preferit

48

Quant a

3

Pedres de toc

866