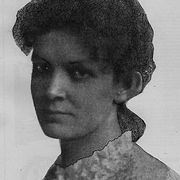 Eleanor Atkinson
(1863–1942)
Coneixement comú
Nom oficial

Altres noms

Data de naixement

Data de defunció

Gènere

Nacionalitat

Lloc de naixement

Llocs de residència

Professions

Biografia breu

1863: Born in Rensellaer, Indianapolis. Daughter of Isaac M. and Margaret (Smith) Stackhouse.
18--: Indianapolis Normal School.
1888-91: Special writer for the Chicago Tribune under pen name of Nora Marks.
1891: Marries Francis Blake Atkinson (editor).
1899: Daughter Eleanor Blake Atkinson born.
1903: Publishes "MamzelleFifine", historical novel of the young Empress Josephine of Martinique.
1908: Publishes "Boyhood of Lincoln".
1909: Publishes "Lincoln's Love Story".
1910: Publishes "The Story of Chicago".
1912: Publishes "Greyfriars Bobby" and "A Loyal Love".
1915: Publishes "The How and Why Library".
1916: Publishes "Johnny Appleseed".
1916: Publishes "Pictured Knowledge".
1917: Publishes "Hearts Undaunted".
1918: Publishes: "Poilu, A Dog of Roubaix".
1920: Separates from husband Francis Blake.
1924: Francis Blake granted divorce.
1942: Dies Manhasset, Long Island.