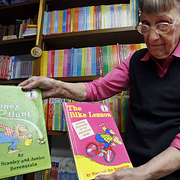 Jan Berenstain
(1923–2012)
Coneixement comú
Nom oficial

Altres noms

Data de naixement

Data de defunció

Gènere

Nacionalitat

Lloc de naixement

Lloc de defunció

Causa de la mort

Llocs de residència

Educació

Professions

Relacions

Biografia breu

Janice "Jan" Berenstain, née Grant, and Stanley Berestain are best known for the children's book series The Berenstain Bears, which became a franchise including a television series, toys, and stage productions.

Nota de desambiguació

Do NOT combine "Jan Berenstain" with either "Stan Berenstain" or any of the various "Stan & Jan Berenstain" pages. They are two separate people. Thank you.
Estadístiques
Obres

558

També de

4

Membres

145,204

Popularitat

#44

Valoració

3.8
Ressenyes

1,051

ISBN

2,981

Llengües

13

Preferit

2

Quant a

1

Pedres de toc

17