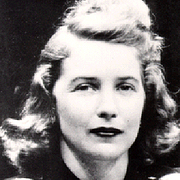 Margaret Wise Brown
(1910–1952)
Coneixement comú
Altres noms

Data de naixement

Data de defunció

Lloc d'enterrament

Gènere

Nacionalitat

Lloc de naixement

Lloc de defunció

Causa de la mort

Llocs de residència

Educació

Professions

Relacions

Biografia breu

Margaret Wise Brown wrote hundreds of books and stories before she died at the age of 42 after surgery for a burst appendix. She published under her own name as well as under several pen names including Timothy Hay, Golden MacDonald, Juniper Sage, and Kaintuck Brown. According to a Web site dedicated to her, before Margaret began writing books for children, fairytales and fables dominated the world of illustrated stories. But Margaret, or Brownie, as her friends called her, wrote with the then "new" idea that children would rather read about their own lives instead. Many of her books are considered classics of the genre.

Nota de desambiguació

Golden MacDonald, Juniper Sage, Timothy Hay, and Kaintuck Brown are pen names of Margaret Wise Brown.
Estadístiques
Obres

224

També de

9

Membres

62,311

Popularitat

#230

Valoració

4.1
Ressenyes

1,594

ISBN

1,196

Llengües

17

Preferit

21

Pedres de toc

347