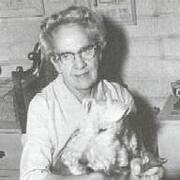 Ann Nolan Clark
(1896–1995)
Coneixement comú
Data de naixement

Data de defunció

Gènere

Nacionalitat

Lloc de naixement

Llocs de residència

Educació

Professions

Premis i honors

Regina Medal (Catholic Library Association|1963)
Distinguished Service Award (Bureau of Indian Affairs|1962)

Biografia breu

Ann Nolan Clark was born in Las Vegas, New Mexico. She graduated from New Mexico Normal School (now New Mexico Highlands University, NMHU) with a degree in education. In 1919, she married Thomas Patrick Clark with whom she had a son.

She began her career teaching English at NMHU. In the early 1920s, she took a job with the U.S. Bureau of Indian Affairs as an elementary school teacher for children of the Tesuque Pueblo people, a position she held for 25 years. When she saw that the school had scarcely any instructional material geared toward Native Americans, she began writing children's books that incorporated the voices and stories of her students. Her book In My Mother's House, illustrated by Pueblo artist Velino Herrera, was named a Caldecott Honor book in 1942. She wrote about this work in her memoir Journey to the People, published in 1969.

In 1945, she transferred to the Institute for Inter-American Affairs, which sent her to live and travel for five years in Mexico, Guatemala, Costa Rica, Ecuador, Peru, and Brazil. Those experiences led her to write books such as Magic Money, Looking-for-Something, and Secret of the Andes, which won the 1953 Newbery Medal. Clark wrote 31 books in her career, including some for the Haskell Foundation and the Haskell Indian Nations University at Lawrence, Kansas. In 1962, she received the Bureau of Indian Affairs' Distinguished Service Award.
Estadístiques
Obres

65

També de

4

Membres

3,214

Popularitat

#7,961

Valoració

3.5
Ressenyes

24

ISBN

72

Llengües

2

Pedres de toc

29