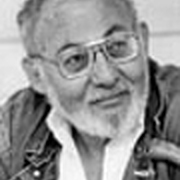 Stanley Elkin
(1930–1995)
Coneixement comú
Nom oficial

Data de naixement

Data de defunció

Gènere

Nacionalitat

Lloc de naixement

Lloc de defunció

Llocs de residència

Educació

Professions

Organitzacions

American Academy of Arts and Letters ( [1982])
Washington University in St. Louis (Merle Kling Professor of Modern Letters)

Premis i honors

American Academy of Arts and Letters Academy Award (Literature, 1974)
National Book Critics Circle Award

Biografia breu

Stanley Elkin was born in Brooklyn, New York. He grew up in Chicago, where his parents moved when he was three years old. He began writing as a boy. He attended the University of Illinois at Champaign-Urbana, earning a bachelor's degree in English in 1952, a master's degree in 1953 and a doctorate in 1961. In 1953, he married Joan Jacobson, with whom he had three children. He served in the U.S. Army from 1955 to 1957. In 1960, he joined the faculty of Washington University in St. Louis as an English instructor, and remained at the university the rest of his life. He rose to full professor in 1969 and was appointed Merle Kling Professor of Modern Letters in 1983. He became a famed teacher whose students were known to tremble in the wake of his comments. Stanley Elkin published his first novel "Boswell" in 1964 and his first collection of short stories, "Criers and Kibitzers, Kibitzers and Criers," in 1966. He became a prolific writer, producing 9 more novels, two volumes of novellas, two books of short stories, a collection of essays, radio plays, a screenplay, and numerous articles and stories for magazines such as Harper's, Playboy, and Esquire. His darkly comic and satiric writing style focused on American pop culture and the (often) painful side of human relationships. Elkin enjoyed critical acclaim and international popularity for many of his works. His extravagant, exuberant, and baroque language was widely admired. A diagnosis of multiple sclerosis in 1972 and two heart attacks did not stop Elkin's writing or teaching careers or keep him from taking travel assignments.
Estadístiques
Obres

33

També de

24

Membres

2,346

Popularitat

#10,931

Valoració

3.6
Ressenyes

27

ISBN

137

Llengües

5

Preferit

10

Pedres de toc

64