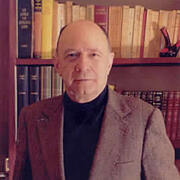 Jacques Ellul
(1912–1994)
Obres associades
Callings!
(1974)
— Col·laborador —
4 exemplars
Coneixement comú
Nom oficial

Data de naixement

Data de defunció

Gènere

Nacionalitat

País (per posar en el mapa)

Lloc de naixement

Lloc de defunció

Llocs de residència

Educació

Professions

Organitzacions

Biografia breu

a French philosopher, Law professor, sociologist, theologian, and Christian anarchist. He wrote several books about the "technological society", and about Christianity and politics, such as Anarchy and Christianity (1991)—arguing that anarchism and Christianity are socially following the same goal.

A philosopher who approached technology from a deterministic viewpoint, Ellul, professor at the University of Bordeaux, authored some 40 books and hundreds of articles over his lifetime, the dominant theme of which has been the threat to human freedom and Christian faith created by modern technology. His constant concern has been the emergence of a "technological tyranny" over humanity. As a philosopher and theologian, he further explored the religiosity of the technological society.


Estadístiques
Obres

109

També de

2

Membres

4,940

Popularitat

#5,087

Valoració

4.2
Ressenyes

46

ISBN

241

Llengües

11

Preferit

16

Pedres de toc

31