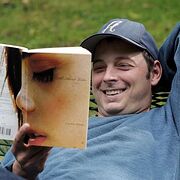 Coneixement comú
Nom normalitzat

Data de naixement

Gènere

Nacionalitat

Lloc de naixement

Llocs de residència

Bainbridge Island, Washington, USA
Seattle, Washington, USA
Los Angeles, California, USA
San Francisco, California, USA
Missoula, Montana, USA

Professions

novelist
writer
rabbit raiser
radio host
taster (beer)
sorter (tomatoes) (

mostra-les totes

8)
telemarketer
editor (script doctor)

Agent

Biografia breu

His work had appeared in the Portland Review, Orchid, Knock, Opium, Quick Fiction, and other journals. All About Lulu is his first novel.

Jonathan's a happy guy. He like rabbits. He has eight of them... all cute little f*****s with names like Javier and Little Turkey. He lives out in the woods on an island in Puget Sound, where he spends the majority of his time writing and sitting in the bathtub. He makes all his business calls from the bathtub. People are always asking him: "What's that echo? Are you in a bus station?" He says: "No, I'm in my office." Pretty cool, huh? He's developing something I call the sweats to pants ratio (SPR), by which success is measured relative to the days one spends in formal versus casual attire (formal being anything with pockets). By this measure, seven days a week in sweats is the pinnacle of success. He's at about five-to-two right now.

As a syndicated talk radio host, his comedy show "Shaken Not Stirred" was nominated for two Peabody Awards. He has received two Silver Microphones, and two Communicators and was frequently nominated for the Soundie Award.

He is the founder and moderator of the FICTION FILES, a forum for literary discussion.
Estadístiques
Obres

8

També de

1

Membres

2,528

Popularitat

#10,153

Valoració

3.7
Ressenyes

196

ISBN

81

Llengües

3

Preferit

7