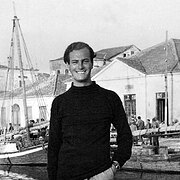 Patrick Leigh Fermor
(1915–2011)
Coneixement comú
Nom normalitzat

Nom oficial

Altres noms

Data de naixement

Data de defunció

Lloc d'enterrament

Gènere

Nacionalitat

País (per posar en el mapa)

Lloc de naixement

Lloc de defunció

Llocs de residència

Educació

Professions

Relacions

Fermor, Lewis Leigh (father)
Chatwin, Bruce (friend)
Moss, W. Stanley (fellow officer)
Fielding, Xan (fellow officer, friend)
Eyres Monsell, Joan (spouse)
Hayden, Sir Henry Hubert (godfather) (

mostra-les totes

7)
Fielding, Daphne (friend)

Organitzacions

Premis i honors

Distinguished Service Order
Order of the Phoenix, Greece (Commander)
Royal Society of Literature Companion of Literature
Officer of the Order of the British Empire
Knight Bachelor (2004)
Fellow, Royal Society of Literature

Agent

Biografia breu

Patrick Leigh Fermor was one of the world's great travellers and travel writers. He was also a courageous officer in the British Special Operations Executive in World War II. The BBC once described him as "a cross between Indiana Jones, James Bond, and Graham Greene."

Nota de desambiguació

Note that this author's surname is Leigh Fermor, first name is Patrick.
Estadístiques
Obres

29

També de

19

Membres

8,237

Popularitat

#2,935

Valoració

4.0
Ressenyes

192

ISBN

226

Llengües

13

Preferit

52