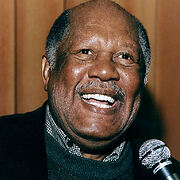 Ernest J. Gaines
(1933–2019)
Coneixement comú
Nom oficial

Data de naixement

Data de defunció

Lloc d'enterrament

Gènere

Nacionalitat

Lloc de naixement

Lloc de defunció

Llocs de residència

Pointe Coupee Parish, Louisiana, USA
Vallejo, California, USA
San Francisco, California, USA
Lafayette, Louisiana, USA

Educació

Professions

Organitzacions

American Academy of Arts and Letters (1998)
Fellowship of Southern Writers (charter member)
University of Louisiana at Lafayette

Premis i honors

National Humanities Medal (2000)
American Academy of Arts and Letters Academy Award (1987)
John Dos Passos Prize (1993)
Louisiana Writer Award (2000)
F. Scott Fitzgerald Award for Outstanding Achievement in American Fiction (2001)
Cleanth Brooks Medal for Lifetime Achievement (2011) (

mostra-les totes

10)
Sidney Lanier Prize for Southern Literature (2012)
MacArthur Fellowship (1993)
Guggenheim Fellowship (1972 ∙ Fiction)
National Medal of Arts (2013)

Biografia breu

Ernest James Gaines was an American author whose works have been taught in college classrooms and translated into many languages, including French, Spanish, German, Russian and Chinese. Four of his works were made into television movies. His 1993 novel, A Lesson Before Dying, won the National Book Critics Circle Award for fiction. Gaines was a MacArthur Foundation fellow, was awarded the National Humanities Medal, and was inducted into the French Ordre des Arts et des Lettres (Order of Arts and Letters) as a Chevalier.
Estadístiques
Obres

15

També de

23

Membres

8,637

Popularitat

#2,784

Valoració

3.9
Ressenyes

166

ISBN

186

Llengües

7

Preferit

13

Pedres de toc

229