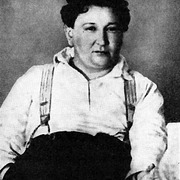 Jaroslav Hašek
(1883–1923)
Coneixement comú
Nom normalitzat

Data de naixement

Data de defunció

Lloc d'enterrament

Gènere

Nacionalitat

País (per posar en el mapa)

Lloc de naixement

Lloc de defunció

Causa de la mort

Llocs de residència

Educació

Biografia breu

Czech writer and humorist Jaroslav Hašek became internationally known for his novel The Good Soldier Svejk and His Fortunes in the World War (1923). He was also the author of approximately fifteen hundred stories, sketches, and newspaper columns; in addition, he wrote plays for cabarets. Hašek's work was closely linked to his unconventional lifestyle, which became the subject of many stories and legends that Hašek himself helped to create. In his best works, the spontaneity of his storytelling and overall ironic detachment indicate his belief in unpretentiousness and tolerance.

Nota de desambiguació

The Good Soldier Svejk (Schweik, Schwejk, Svejkin...) was written as 4 volumes. Modern editions are often a selection from all of them, but let's try to keep those published as the original volumes separate.
Estadístiques
Obres

195

També de

3

Membres

4,340

Popularitat

#5,780

Valoració

3.9
Ressenyes

77

ISBN

297

Llengües

28

Preferit

22

Pedres de toc

203