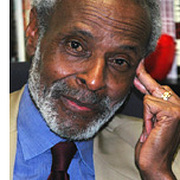 James Haskins
(1941–2005)
Coneixement comú
Altres noms

Data de naixement

Data de defunció

Gènere

Nacionalitat

Lloc de naixement

Lloc de defunció

Llocs de residència

Educació

Professions

university professor
music teacher
special education teacher
curator
editor
book reviewer (

mostra-les totes

7)
stock trader

Organitzacions

University of Florida, Gainesville
Smithsonian Institution Traveling Exhibition Service
Statue of Liberty-Ellis Island Foundation, Inc.
National Education Advisory Committee of The Commission on the Bicentennial of the United States Constitution
CIVITAS
The Gainesville Sun (

mostra-les totes

8)
Opportunity magazine
Footsteps magazine

Premis i honors

Nota de desambiguació

Do not separate James Haskins into multiple authors unless you are certain this is correct. James Haskins (often Jim Haskins), an educator in New York City and Florida, wrote more than 100 books on subjects as diverse as African-American history, child abuse, alcoholism, werewolves, street gangs, religions, Indian history, sports and music biographies, and the Count Your Way series. The academic site listed in the sidebar has a large list of his many books.
Estadístiques
Obres

185

També de

6

Membres

7,176

Popularitat

#3,418

Valoració

3.8
Ressenyes

89

ISBN

438

Llengües

5

Preferit

2

Pedres de toc

15