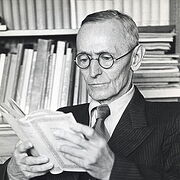 Hermann Hesse
(1877–1962)
Coneixement comú
Data de naixement

Data de defunció

Lloc d'enterrament

Gènere

País (per posar en el mapa)

Lloc de naixement

Lloc de defunció

Educació

Evangelical Theological Seminary, Maulbronn Abbey, Baden-Württemberg, Germany
Gymnasium, Cannstatt, Germany

Premis i honors

Biografia breu

Hermann Karl Hesse; 2 July 1877 – 9 August 1962) was a German-born Swiss poet, novelist, and painter. His best-known works include Demian, Steppenwolf, Siddhartha, and The Glass Bead Game, each of which explores an individual's search for authenticity, self-knowledge and spirituality. In 1946, he received the Nobel Prize in Literature.

Hermann Karl Hesse was born on 2 July 1877 in the Black Forest town of Calw in Württemberg, German Empire. His grandparents served in India at a mission under the auspices of the Basel Mission, a Protestant Christian missionary society. His grandfather Hermann Gundert compiled the current grammar in Malayalam language, compiled a Malayalam-English dictionary, and also contributed to the work in translating the Bible to Malayalam. Hesse's mother, Marie Gundert, was born at such a mission in India in 1842. In describing her own childhood, she said, "A happy child I was not..." As was usual among missionaries at the time, she was left behind in Europe at the age of four when her parents returned to India.
Estadístiques
Obres

854

També de

38

Membres

81,405

Popularitat

#150

Valoració

3.9
Ressenyes

1,098

ISBN

3,046

Llengües

48

Preferit

450