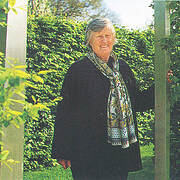 Coneixement comú
Data de naixement

Gènere

Nacionalitat

Lloc de naixement

Educació

Professions

Biografia breu

Penelope Hobhouse, née Chichester-Clark, was born to a prominent Anglo-Irish family at their estate of Moyola Park, Castledawson, in County Londonderry, Northern Ireland. Her brother James Dawson Chichester-Clark, Baron Moyola, was the Prime Minister of Northern Ireland from 1969 to 1971.
She was educated at North Foreland Lodge and attended Girton College, Cambridge, where she graduated with a BA in economics in 1951. She taught herself gardening by examples of the Tuscan villa gardens she saw on a walking tour; she went on to become a well-known garden writer, designer, lecturer, and television presenter, publishing many books on the subject.

These include Colour in Your Garden, Plants in Garden History, Penelope Hobhouse on Gardening, Penelope Hobhouse's Garden Designs, and Penelope Hobhouse's Natural Planting.
In 1996. she hosted a series for Home & Garden TV in the USA.
She has designed gardens in England, Scotland, France, Italy, Spain, Germany, and the USA.

She is an associate editor of Gardens Illustrated magazine, and has taught at the University of Essex. In 1952, she married Paul Rodbard Hobhouse; they couple had three children before the marriage was dissolved in 1983. She met her second husband, John Melville Malins, at a Garden History Society meeting.
Estadístiques
Obres

28

També de

3

Membres

1,464

Popularitat

#17,551

Valoració

4.1
Ressenyes

13

ISBN

108

Llengües

6

Preferit

1