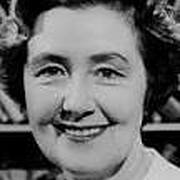 Margaret Hodges
(1911–2005)
Coneixement comú
Altres noms

Data de naixement

Data de defunció

Gènere

Nacionalitat

Lloc de naixement

Lloc de defunció

Llocs de residència

Educació

Professions

Relacions

Organitzacions

Biografia breu

Margaret Hodges, née Moore, was born in Indianapolis, Indiana. Her mother Anna Marie Moore died six months
after her birth, and an older cousin, Margaret Carlisle, moved into the household to help care for Margaret and her brother. Cousin Margaret
introduced the children to classic books, and their father often read aloud and
recited poems to them. Margaret attended Tudor Hall, a college prep school for girls. At Vassar College she majored in English, studied acting, and took part in college theater. She graduated with honors in 1932 and married Fletcher Hodges Jr., a museum curator with whom she had three children. A few years later, they moved to Pittsburgh, Pennsylvania when her husband became curator at the Stephen Foster Memorial at the University of Pittsburgh. She received a master's degree in library science from the Carnegie Institute of Technology (now Carnegie Mellon University) while volunteering as a storyteller and children's librarian at the Carnegie Library of Pittsburgh. She became a renowned children's author, producing more than 50 books that included original works such as biographies and novels, as well as retold legends, many of which were sparked by her travels in the UK, Scandinavia, and Russia. In 1953, she became the storyteller for a local radio show called "Let's Tell a Story" that grew into the nationally broadcast segment "Tell Me a Story" for Mr. Rogers' Neighborhood on WQED-TV.

She also served as a story specialist for the Pittsburgh Public Schools and was a professor of library science at the University of Pittsburgh School of Information Sciences, retiring in 1976.
Estadístiques
Obres

54

També de

5

Membres

5,966

Popularitat

#4,134

Valoració

4.1
Ressenyes

139

ISBN

107

Llengües

2

Pedres de toc

34