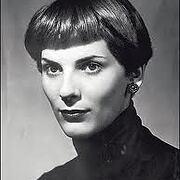 Elizabeth Jane Howard
(1923–2014)
Coneixement comú
Data de naixement

Data de defunció

Gènere

Nacionalitat

Lloc de naixement

Lloc de defunció

Llocs de residència

Professions

Relacions

Scott, Peter (first husband)
Amis, Kingsley (third husband)
Amis, Martin (step-son)
Aickman, Robert (lover)

Organitzacions

Premis i honors

Biografia breu

Elizabeth Jane Howard, known as Jane, worked briefly as an actor in provincial theater before marrying Sir Peter Scott in 1942, at age 19. They had a daughter, Nicola, and divorced in 1951. A second marriage, to Jim Douglas-Henry in 1958, was brief. Her third marriage to novelist Kingsley Amis lasted from 1965 to 1983. She published her first novel in 1950 and her autobiography, Slipstream, in 2002.

Nota de desambiguació

Elizabeth Jane Howard (March 26, 1923-January 2, 2014) was a British novelist. Not to be confused with mystery writer Elizabeth Howard.
Estadístiques
Obres

49

També de

15

Membres

5,569

Popularitat

#4,460

Valoració

4.0
Ressenyes

175

ISBN

468

Llengües

9

Preferit

23

Quant a

1

Pedres de toc

272