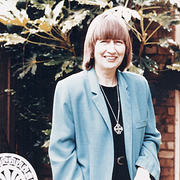 Coneixement comú
Altres noms

Data de naixement

Gènere

Nacionalitat

Lloc de naixement

Llocs de residència

Leatherhead, Surrey, England, UK
New York, New York, USA
London, England, UK
Salisbury, Wiltshire, England, UK

Educació

Professions

Agent

Biografia breu

Born Susan Elizabeth Sturt in Leatherhead, Surrey, England, she was the daughter of a stockbroker, and went to school at Sutton High School. She was an only child whose father was killed during World War II, but she has described her childhood as a happy one.

She obtained a degree in law from King's College London in 1961. In 1964, she emigrated to the United States, where she worked as a secretary in New York City. She married Joseph Howatch, a sculptor and writer, that year and began her career as a writer, finding success almost immediately with her intricately detailed gothic novels. A daughter was born to the couple in 1971. Upon separating from her husband in 1975, Howatch returned to England, then lived in the Republic of Ireland from 1976–80 before moving back to England permanently in 1980.

After her latter return to England, Howatch found herself "rich, successful, and living exactly where I wanted to live," but feeling a spiritual emptiness which she ascribed to "trying to hold my divided self together" and questioning her life and what she should do with it.

She had settled in Salisbury out of love for the beauty of the town, but found herself increasingly drawn to Salisbury Cathedral; eventually she began to study Anglican Christianity in earnest. She experienced a spiritual epiphany, and concluded that she should continue to write novels, but to "set forth my discoveries in the light of faith, no matter how feeble and inadequate my beginner's faith was." This personal turning point culminated in Howatch's most successful and popular works, the Starbridge series.
Estadístiques
Obres

58

També de

2

Membres

7,558

Popularitat

#3,231

Valoració

3.9
Ressenyes

133

ISBN

391

Llengües

13

Preferit

31

Pedres de toc

146