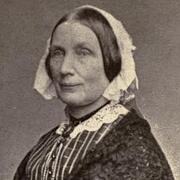 Coneixement comú
Altres noms

Data de naixement

Data de defunció

Gènere

Nacionalitat

Lloc de naixement

Lloc de defunció

Llocs de residència

Rome, Italy
London, England, UK
Heidelberg, Germany
Uttoxeter, Staffordshire, England, UK
Heanor, England, UK
Nottingham, Nottinghamshire, England, UK (

mostra-les totes

8)
Meran, South Tirol, Austro-Hungarian Empire
Esher, Surrey, England, UK

Educació

Professions

Relacions

Biografia breu

Mary Howitt, née Botham, was born at Coleford in Gloucestershire, England, to a prosperous Quaker family. She was educated at home and read widely. She began writing poetry at a very early age. In 1821, she married William Howitt, a pharmacist, with whom she had several children. The couple began a joint writing career a few years later. Their early works consisted of poems and other pieces they contributed to annuals and periodicals; a selection was published in 1827 under the title of The Desolation of Eyam and other Poems. Eventually, they would publish 180 books together. Mary and her husband socialized with many important literary figures of the day, including Charles Dickens, Elizabeth Gaskell, and Elizabeth Barrett Browning. In 1837, they went on a tour of northern England and stayed with William and Dorothy Wordsworth. That year, Mary began writing her well-known tales for children, a long series of books that met with great success. The couple moved to London in 1843. In the early 1840s, Mary Howitt became interested in Scandinavian literature, and learned Swedish and Danish so that she could translate works from those languages into English. She introduced the British public to Hans Christian Andersen's tales and Joseph Ennemoser's History of Magic. In 1852, her husband went for a few years to Australia with his brother hoping to make a fortune, and Mary wrote and edited works on her own. These included a Popular History of the United States (1859), and a three-volume novel, The Cost of Caergwyn (1864). She is credited as the author, translator, or editor of at least 110 works. Her autobiography Reminiscences of My Later Life was published in 1886. However, she's best remembered today as the author of the poem The Spider and the Fly, published in The New Year's Gift and Juvenile Souvenir in 1829.
Estadístiques
Obres

47

També de

7

Membres

1,475

Popularitat

#17,415

Valoració

4.1
Ressenyes

115

ISBN

41

Llengües

1

Preferit

1