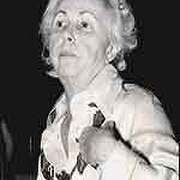 Elizabeth Janeway
(1913–2005)
Coneixement comú
Altres noms

Data de naixement

Data de defunció

Gènere

Nacionalitat

Lloc de naixement

Lloc de defunció

Llocs de residència

Educació

Professions

Relacions

Organitzacions

Biografia breu

Elizabeth Janeway, née Elizabeth Ames Hall, was born in Brooklyn, New York, the daughter of a naval architect and a homemaker. She went to Swarthmore College in Pennsylvania during the Great Depression, and had to drop out when her parents fell on hard times. She help support the family for a year as an advertising copywriter. After that, she enrolled at Barnard College and graduated in 1935.
In 1938, while working on her first novel, The Walsh Girls, she married Eliot Janeway, a noted economist and advisor to Presidents Franklin Delano Roosevelt and Lyndon B. Johnson. The couple mingled with U.S. Supreme Court justices and many other public figures of the day.

She finally published The Walsh Girls in 1943 and it became a bestseller. She wrote six more novels, including Daisy Kenyon (1945), which was adapted into a film two years later; and The Question of Gregory (1949), which attracted attention for its main character's similarities to James Forrestal, the Secretary of Defense and friend of the Janeways who had killed himself. Janeway became a book reviewer for The New York Times and served as a champion of controversial works. She was also a reviewer for Ms. Magazine.

From 1965 to 1969, she served as president of the Authors Guild, lobbying lawmakers on copyright and other literary causes.

Many of her early works focused on family situations, but after she befriended Betty Friedan, Gloria Steinem, and Kate Millett in the late 1960s, she embraced the new feminist movement, producing works such as Man's World, Woman's Place: A Study of Social Mythology (1971).

Other works included Women: Their Changing Roles (1973); Powers of the Weak (1980); and a sociological work, Improper Behavior (1987). Janeway was a judge for the National Book Awards in 1955 and for the Pulitzer Prize in 1971, and served as an executive of International PEN.