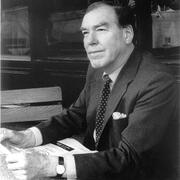 Coneixement comú
Nom oficial

Data de naixement

Data de defunció

Gènere

Nacionalitat

País (per posar en el mapa)

Lloc de naixement

Lloc de defunció

Llocs de residència

Educació

Professions

Relacions

Organitzacions

Premis i honors

Samuel Eliot Morison Prize (1996)
Officer of the Order of the British Empire (1991)
Knight Bachelor (2000)
BBC Reith Lecturer (1998)
Fellow of the Royal Society of Literature (1986)

Biografia breu

Sir John Keegan is a famed British military historian, lecturer, writer, and journalist who has published more than 20 books on combats between the 14th and 21st centuries, especially World War II. He was born in London to a family of Irish Catholic extraction. The long-term effects of a serious illness made him unfit for military service, and the timing of his birth made him too young to serve in World War II, as he mentions ironically in his work, given his profession and interest. Following his graduation from Oxford, he worked for a few years at the American Embassy in London. In 1960 he was appointed to a lectureship in Military History at the Royal Military Academy Sandhurst, the training establishment for officers of the British Army. Holding the post for 26 years, he became senior lecturer in military history. During this period, he also held a visiting professorship at Princeton University and was Delmas Distinguished Professor of History at Vassar College. In 1986, Keegan joined the Daily Telegraph as a defence correspondent and rose to become defence editor, also writing for the American conservative website National Review Online. In 1998 he wrote and presented the BBC's Reith Lectures, entitled "War in our World." Many of his books are bestsellers.
Estadístiques
Obres

52

També de

29

Membres

19,635

Popularitat

#1,107

Valoració

3.8
Ressenyes

206

ISBN

460

Llengües

19

Preferit

3

Pedres de toc

256