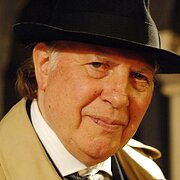 Coneixement comú
Nom normalitzat

Nom oficial

Data de naixement

Data de defunció

Gènere

Nacionalitat

País (per posar en el mapa)

Lloc de naixement

Lloc de defunció

Llocs de residència

Professions

Premis i honors

Nobel Prize for Literature (2002)
Order of Saint Stephen
Goethe Medal (2004)
Brandenburger Literaturpreis (1995)
Leipziger Buchpreis (1997)
Herder Preis (2000) (

mostra-les totes

7)
Pour le Mérite (2001)

Biografia breu

Imre Kertész was born to a Jewish family in Budapest, Hungary. After his parents László Kertész and Aranka Jakab separated when he was about five years old, he attended a boarding school. In 1944, after Nazi Germany invaded his homeland during World War II, he was deported at age 14 with other Hungarian Jews to the death camp at Auschwitz, and was later sent to Buchenwald concentration camp. He survived to be liberated by U.S. troops in 1945 and returned to Budapest. He resumed his education and graduated from high school in 1948. Kertész became a journalist and worked for the periodical Világosság (Clarity) but was dismissed in 1951 after it adopted the Communist party line. After a short time as a factory worker, he was employed by the press department of the Ministry of Heavy Industry. He then became a freelance writer and translator of German-language authors into Hungarian, including works by Friedrich Nietzsche, Sigmund Freud, Ludwig Wittgenstein, and Elias Canetti. His most influential novel, Sorstalanság (Fatelessness), written between 1960 and 1973, the first of his Holocaust trilogy, was based on his experiences in the camps. Initially it was rejected by the Communist censors in Hungary, but was finally published in 1975. In was adapted into a film in 2005. Subsequent volumes in the trilogy were A kudarc (The Failure, 1988) and Kaddis a meg nem született gyermekért (Kaddish for an Unborn Child, 1990). Having found little appreciation for his writing in Hungary, he divided his time between Budapest and Berlin, where he also was able to make public appearances. He won numerous literary prizes before being awarded the Nobel Prize in Literature in 2002.
Estadístiques
Obres

60

També de

5

Membres

4,988

Popularitat

#5,023

Valoració

3.9
Ressenyes

156

ISBN

378

Llengües

28

Preferit

21

Pedres de toc

304