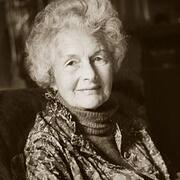 Elizabeth Longford
(1906–2002)
Coneixement comú
Nom normalitzat

Nom oficial

Altres noms

Data de naixement

Data de defunció

Gènere

Nacionalitat

Lloc de naixement

Lloc de defunció

Llocs de residència

Educació

Professions

Relacions

Fraser, Antonia (daughter)
Pakenham, Frank, 7th Earl of Longford (husband)
Billington, Rachel (daughter)
Pakenham, Thomas Francis Dermot, 8th Earl of Longford (son)
Kazantzis, Judith (daughter)
Fraser, Flora (granddaughter) (

mostra-les totes

11)
Fraser-Cavassoni, Natasha (granddaughter)
Fraser, Rebecca (granddaughter)
Pakenham, Eliza (granddaughter)
Clive, Mary (sister-in-law)
Lamb, Lady Pansy (sister-in-law)

Organitzacions

Premis i honors

Commander, Order of the British Empire (1974)
James Tait Black Memorial Prize (1964)
Fellow, Royal Society of Literature (1965)

Biografia breu

Of the young Elizabeth Harman, The New York Times wrote, "As a child and a schoolgirl, [she] appears to have had a somewhat limited and certainly strict upbringing, and it was not until she got to Oxford University as a student in 1926 that she fully blossomed. Able, articulate and beautiful, she immediately became the Zuleika Dobson of her day, with undergraduates and even dons tumbling over one another to fall in love with her." In 1931, she married Frank Pakenham, later 7th Earl of Longford. The couple converted to the Roman Catholic faith and had 8 children. Elizabeth Longford (her pen name) was one of the first women to stand for Parliament and ran as a Labour candidate in 1935 and 1950, but was unsuccessful. She became a best-selling biographer and historian, specializing in the 19th century and Victorian age, as well as a writer for the Daily Express and The Sunday Times. She continued to write about royals and politicians well into her 90s. Five of her children became writers: journalist Catherine Longford, novelist Rachel Billington, biographer Antonia Fraser, poet Judith Kazantzis, and historian Thomas Pakenham. Some of her granddaughters have also became writers.
Estadístiques
Obres

27

També de

10

Membres

2,333

Popularitat

#10,994

Valoració

3.8
Ressenyes

29

ISBN

94

Llengües

2

Preferit

1

Pedres de toc

54