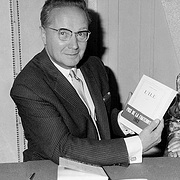 Coneixement comú
Nom oficial

Data de naixement

Data de defunció

Lloc d'enterrament

Gènere

Nacionalitat

País (per posar en el mapa)

Lloc de naixement

Lloc de defunció

Causa de la mort

officially an accident but his son implied his last wife killed him (see book 'Robert Merle, une vie de passion')

Llocs de residència

Educació

Professions

Relacions

Organitzacions

Premis i honors

Officier des Palmes académiques
Croix du combattant
Grand prix Jean-Giono (Pour l'ensemble de son œuvre , 2003)
Prix Sola-Cabiati (Pour l'ensemble de son œuvre, 2003)
Campbell Award, Etats-Unis

Biografia breu

Robert Merle was born in Tébessa, Algeria, then a French colony. After his father, an interpreter, was killed in World War I, his mother moved with him to Paris. There he attended lycée and the Sorbonne, where he earned a doctorate in English literature with a dissertation on Oscar Wilde. He passed the agrégation (civil service exam for teachers) and taught English literature at lycées in Bordeaux, Marseille, and Paris, where he became a friend of Jean-Paul Sartre. In 1939, at the start of World War II, he was conscripted in the French army and worked as an interpreter during the evacuation of British Expeditionary Force at Dunkirk. He was captured by the Germans and sent to a POW camp at Dortmund. In 1943, he was repatriated to France. He later used his experiences at Dunkirk in his first novel Week-end à Zuydcoote (Weekend at Zuydcoote, 1949), which was a major success and won the Prix Goncourt. It was adapted into a 1964 film called Weekend at Dunkirk. He went on to write numerous other acclaimed novels including La Mort est mon Métier (Death Is My Trade, 1953), Maleville (1972), and Un Animal doué de raison (A Sentient Animal, 1967), adapted into the 1973 film The Day of the Dolphin. He also wrote a play, Flamineo (1950), based on John Webster's The White Devil; a biography Oscar Wilde (1948); and translations of English works including Gulliver's Travels by Jonathan Swift. His series of 13 historical novels known collectively as Fortune de France (1977–2003), set during the religious civil wars of the 16th and 17th centuries, used many of the French speech rhythms and idioms of the period and is considered his masterpiece. The series, which he began at about age 70, made him a household name in France, and led to his being called "the Alexandre Dumas of the 20th century." He married three times, and had six children.
Estadístiques
Obres

56

També de

8

Membres

3,939

Popularitat

#6,420

Valoració

4.0
Ressenyes

65

ISBN

410

Llengües

8

Preferit

10

Pedres de toc

61