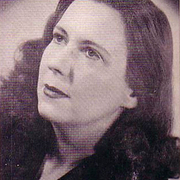 Margaret Millar
(1915–1994)
Coneixement comú
Nom normalitzat

Nom oficial

Altres noms

Data de naixement

Data de defunció

Gènere

Nacionalitat

Lloc de naixement

Lloc de defunció

Llocs de residència

Kitchener, Ontario, Canada
Toronto, Ontario, Canada
Los Angeles, California, USA
Montecito, California, USA
Santa Barbara, California, USA

Educació

Professions

Relacions

Organitzacions

Premis i honors

Biografia breu

Margaret Ellis Sturm, born in Canada, moved to the USA after marrying writer Kenneth Millar (who used the pen name Ross Macdonald) in 1938. They lived for many years in Santa Barbara, California, which often appears as a locale in her books under the pseudonyms San Felice or Santa Felicia. She published her first novel in 1941 and went on to write popular mysteries and non-mystery novels. Her autobiography appeared in 1968.

Estadístiques
Obres

47

També de

38

Membres

2,566

Popularitat

#10,010

Valoració

3.7
Ressenyes

57

ISBN

291

Llengües

13

Preferit

5

Pedres de toc

86