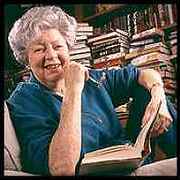 Joan Lowery Nixon
(1927–2003)
Coneixement comú
Data de naixement

Data de defunció

Gènere

Nacionalitat

Lloc de naixement

Lloc de defunció

Llocs de residència

Educació

Professions

Organitzacions

The Authors Guild
Society of Children's Book Writers
International Board on Books for Young People (Friends)

Biografia breu

Joan Lowery grew up in Hollywood, California. She attended Hollywood High and the University of Southern California, where she majored in journalism and met her future husband, Hershell Nixon. She was a writer since very early childhood, and was first published at age 10, when one of her poems appeared in a children's magazine. She sold her first article to a magazine when she was 17. After college, she became interested in writing fiction and went on to produce more 100 books. Her books for children and young adults ranged from picture books to mysteries to historical novels. Joan Lowery Nixon won awards for her writing in all genres, but was especially recognized as a mystery writer -- she was a four-time winner of the prestigious Edgar Award from the Mystery Writers of America.
Estadístiques
Obres

137

També de

7

Membres

9,957

Popularitat

#2,390

Valoració

3.5
Ressenyes

168

ISBN

713

Llengües

8

Preferit

6

Pedres de toc

76