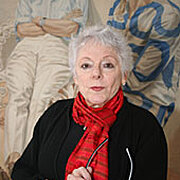 Linda Nochlin
(1931–2017)
Coneixement comú
Nom normalitzat

Nom oficial

Data de naixement

Data de defunció

Gènere

Nacionalitat

Lloc de naixement

Lloc de defunció

Llocs de residència

Educació

Brooklyn Ethical Cultural School
Vassar College (B.A.|1951)
Columbia University (M.A.|1952)
New York University Institute of Fine Arts (Ph.D|1963)

Professions

Relacions

Organitzacions

Premis i honors

Fellow, American Philosphical Society (2004)
Fellow American Academy of Arts and Sciences (1992)
Frank Jewett Mather Prize for Critical Writing (1977)
Chales Eliot Norton Lectures (2004)

Biografia breu

One of the most important and influential art historians of the later twentieth century, Linda Nochlin was a pioneer in the feminist approach to art history. Functioning both as a scholar and as a role model for younger art historians, Dr. Nochlin conducted important research in the field of late nineteenth and early twentieth century French art. Her writings on Courbet are essential to the bibliography on this important painter, and in a series of important essays she explored with erudition and great eloquence questions of the relationship between art and power, particularly in the areas of politics and gender. Deeply versed in theoretical approaches to the field, Dr. Nochlin's work is informed by a profound humanity and generosity of spirit, qualities which have made her an inspiring teacher and mentor to many students and younger scholars. She was the Lila Acheson Wallace Professor of Modern Art at New York University's Institute of Fine Arts. Dr. Nochlin has also taught at Yale University (1990-92), Vassar College (1963-80) and the City University of New York (1980-90). She is the author of books including Realism (1972); Gustave Courbet: A Study of Style and Society (1976); Art and Architecture in the Service of Politics (1978); Courbet Reconsidered (1988); Women, Art, Power & Other Essays (1988); and The Politics of Vision (1990). Linda Nochlin died October 29, 2017, at the age of 86 in Manhattan.
Estadístiques
Obres

45

També de

3

Membres

1,581

Popularitat

#16,323

Valoració

4.1
Ressenyes

10

ISBN

71

Llengües

6

Preferit

2

Pedres de toc

3