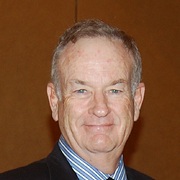 Coneixement comú
Altres noms

Data de naixement

Gènere

Nacionalitat

Lloc de naixement

Llocs de residència

New York, New York, USA
Scranton, Pennsylvania, USA
Manhasset, New York, USA
Fort Lee, New Jersey, USA
Levittown, New York, USA
Miami, Florida, USA

Educació

Marist College (BA ∙ History ∙ 1971)
Boston University (MA ∙ Journalism)
Harvard University (MPA ∙ 1996)

Professions

Relacions

Organitzacions

Premis i honors

Biografia breu

William James O'Reilly Jr. (born September 10, 1949) is an American journalist, author, and former television host. During the late 1970s and 1980s, he reported for local television stations in the United States and later for CBS News and ABC News. He anchored the tabloid television program Inside Edition from 1989 to 1995. O'Reilly joined the Fox News Channel in 1996 and hosted The O'Reilly Factor until 2017. The O'Reilly Factor was the highest-rated cable news show for 16 years, and he was described by media analyst Howard Kurtz as "the biggest star in the 20-year history at Fox News." He is the author of numerous books and hosted The Radio Factor (2002–2009). Since 2017, he has hosted the No Spin News podcast which he founded.

Bill O'Reilly is a trailblazing TV journalist who has experienced unprecedented success on cable news and in writing fifteen national number-one bestselling nonfiction books. There are currently more than 17 million books in the Killing series in print. He currently hosts the 'No Spin News' on BillOReilly.com. He lives on Long Island.
Estadístiques
Obres

37

Membres

18,036

Popularitat

#1,220

Valoració

3.7
Ressenyes

512

ISBN

360

Llengües

8

Preferit

9

Pedres de toc

154