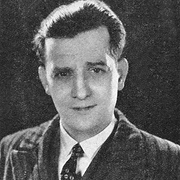 Marcel Pagnol
(1895–1974)
Coneixement comú
Nom normalitzat

Nom oficial

Data de naixement

Data de defunció

Lloc d'enterrament

Gènere

Nacionalitat

Lloc de naixement

Lloc de defunció

Llocs de residència

Educació

Professions

Organitzacions

Premis i honors

Best foreign film - New York Film Critics Circle Awards (1939)
Best foreign film - New York Film Critics Circle Awards (1940)
Best foreign film - New York Film Critics Circle Awards (1950)
Honorary César (1981)

Biografia breu

Marcel Pagnol was born in southern France as the son of a schoolmaster and a seamstress. He studied philosophy at the university of Aix en Provence where in 1913 he founded a student literary magazine wich became the influential Les Cahiers De Sud. After graduating Pagnol began a career as a schoolteacher and began to write poetry. Pagnol's first major success as a writer was his play Les Marchands de gloire. This was followed by Jazz (1926) and Topaze ( 1928) and Marius (1929). In 1932 Pagnol started his own film production company. His first films were Marius (1931) and Joffroi (1932). Pagnol developed his own style of film making. His films were almost exclusively human dramas filmed on location in the beautiful Provencal countryside and towns were Pagnol grew up as a boy. Pagnol's most known films are the Marius-Fanny-Cesar trilogy based on his plays. In 1946 Pagnol was elected to the Academy Francaise, the first film director who became member of the Academy. In 1953 he directed the film Jean de la Florette based on his novels Jean de la Florette and Manon des Sources. He also began working for television. After a brilliant literary and film career wich made him one of the most respected creative talents in France Pagnol died in 1974.
Estadístiques
Obres

126

També de

10

Membres

4,909

Popularitat

#5,118

Valoració

4.0
Ressenyes

84

ISBN

363

Llengües

19

Preferit

15

Pedres de toc

116