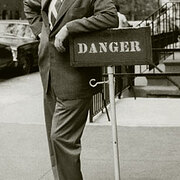 S. J. Perelman
(1904–1979)
Coneixement comú
Nom normalitzat

Nom oficial

Data de naixement

Data de defunció

Lloc d'enterrament

Gènere

Nacionalitat

Lloc de naixement

Lloc de defunció

Llocs de residència

New York, New York, USA (death)
Providence, Rhode Island, USA
Hollywood, California, USA
London, England, UK
Brooklyn, New York, USA (birth)

Educació

Professions

Relacions

Organitzacions

Premis i honors

Biografia breu

Sidney Joseph Perelman was born in Brooklyn and grew up in Providence. He entered Brown University in 1921 as a daily commuter. After leaving college, he worked as a cartoonist and later writer for Judge magazine and for College Humor magazine and in the early 1930s he went to Hollywood and worked as a script writer. He began writing for the New Yorker in 1934. In 1970, Perelman left the USA to live in London but returned to New York in 1972.
Estadístiques
Obres

69

També de

28

Membres

2,218

Popularitat

#11,558

Valoració

3.7
Ressenyes

34

ISBN

88

Llengües

4

Preferit

17

Pedres de toc

32