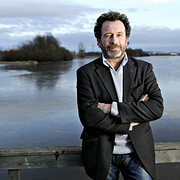 Coneixement comú
Data de naixement

Gènere

Nacionalitat

Lloc de naixement

Llocs de residència

Professions

Premis i honors

Norwegian Booksellers' Prize (2003)
The Critics' Award (2003)
Brage Prize (2000 | 2008)
Nordic Council Literature Prize (2009)
Independent Foreign Fiction Prize (2006)
International Dublin Literary Award (2007)

Biografia breu

Petterson's father, mother, brother and nephew died when a ferry caught fire on the overnight sailing from Oslo to Frederikshavn in northern Denmark (159 people lost their lives)....Sitting in the electricity-free extension to his white wooden house 60 miles south-east of Oslo, Petterson smiles at his last remark.The farmstead where Petterson and his wife Pia live with their sheep and chickens is reached by driving through a whitened landscape, across the Glomma river which, he tells visitors, separates the urban sphere from the "back bush". Asked the name of the area, he replies: "I say I live in the woods, near the Swedish border." The couple moved from the city a dozen years ago, with Pia's children from an earlier union. (It is also Petterson's second marriage.) "When we first came, it was so cold the duvet stuck to the wall." Now there is heating piped into each room and a cat or dog under every chair.
Estadístiques
Obres

22

També de

1

Membres

7,011

Popularitat

#3,491

Valoració

3.8
Ressenyes

414

ISBN

306

Llengües

25

Preferit

34