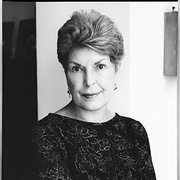 Coneixement comú
Nom oficial

Altres noms

Data de naixement

Data de defunció

Lloc d'enterrament

Gènere

Nacionalitat

País (per posar en el mapa)

Lloc de naixement

Lloc de defunció

Llocs de residència

London, England, UK
Groton, Suffolk, England, UK
Polstead, Suffolk, England, UK
Loughton, Essex, England, UK

Educació

Professions

Organitzacions

Premis i honors

Agent

Biografia breu

Ruth Barbara Rendell, née Grasemann, was the only child of two schoolteachers. She got her first job as a reporter for a South Woodford newspaper and married her boss, editor Don Rendell, at age 20. The couple had one son. She published her first novel, From Doon with Death, in 1964. Ms. Rendell was a prolific writer of police procedurals and psychological suspense/crime novels exploring such themes as romantic obsession, family secrets, miscommunication, and the impact of chance and coincidence. After years of writing such critically acclaimed works and receiving many awards, in 1986 she created the pseudonym Barbara Vine. The Barbara Vine novels are more oblique and have a recurring theme of consequences from events that occurred in the past. She was made a life peer as Baroness Rendell of Babergh in 1997.
Estadístiques
Obres

306

També de

131

Membres

46,577

Popularitat

#340

Valoració

3.7
Ressenyes

1,180

ISBN

3,617

Llengües

29

Preferit

134