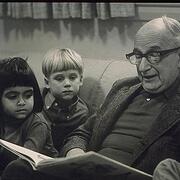 Coneixement comú
Nom oficial

Altres noms

Data de naixement

Data de defunció

Gènere

Nacionalitat

Lloc de naixement

Lloc de defunció

Llocs de residència

Professions

Relacions

Biografia breu

H.A. Rey was born Hans Augusto Reyersbach in Hamburg, Germany, as was his future wife Margarete Elisabeth Waldstein, known as Margret. Both of them had German Jewish fathers. The couple first met in Hamburg as teenagers. They met again in 1935 in Rio de Janeiro, Brazil, where Hans was working as a salesman and Margret had gone to escape the Nazis regime in Germany. They married that year and moved to Paris. There Hans's animal drawings came to the attention of a publisher, who commissioned him to write a children's book that contained a monkey character called Curious George. In June 1940, the couple fled the German invasion of France on bicycles made by Hans, with only the clothes on their backs and the manuscript of a new book about Curious George. They reached Bayonne, France where they managed to obtain visas for Spain; from there, they went on to the USA, settling in New York City. They sold Curious George to Houghton Mifflin, which published it in 1941. It was an instant success, and the Reys were commissioned to write more books about the mischievous monkey and his friend, the Man in the Yellow Hat. They wrote seven stories in all, with Hans mainly doing the illustrations and Margret working mostly on the text, though they cooperating fully in every stage of development. The Curious George books have sold more than 25 million copies around the world and the original story has never been out of print. The Reys moved to Cambridge, Massachusetts in 1963 and lived there until Hans's death in 1977. A children's bookstore named Curious George & Friends (formerly Curious George Goes to Wordsworth) was founded in Cambridge Square the 1990s by friends.

Nota de desambiguació

Despite being married, H.A. Rey and Margret Rey are two different people. Please do not combine their separate author pages. Also, do not combine either Margret or H.A. with pages that have both their names.
Estadístiques
Obres

254

També de

64

Membres

53,343

Popularitat

#283

Valoració

3.9
Ressenyes

431

ISBN

1,320

Llengües

16

Preferit

7