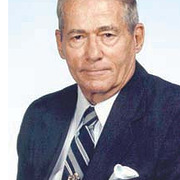 Peter S. Ruckman
(1921–2016)
Coneixement comú
Nom normalitzat

Nom oficial

Data de naixement

Data de defunció

Gènere

Nacionalitat

Lloc de naixement

Lloc de defunció

Llocs de residència

Educació

Professions

Biografia breu

Dr. Peter S. Ruckman received his Bachelor of Arts degree from the University of Alabama and finished his formal education with six years of training at Bob Jones University (four full years and two accelerated summer sessions), completing requirements for the Master of Arts and Doctor of Philosophy degree.

Reading at a rate of seven hundred words per minute, Dr. Ruckman had managed to read about 6,500 books before receiving his doctorate, and he still reads an average of a book each day.

Dr. Ruckman stands for the absolute authority of the Authorized Version and offers no apology to any recognized scholar anywhere for his stand. In addition to preaching the gospel and teaching the Bible, Dr. Ruckman has produced a comprehensive collection of apologetic and polemic literature and resources supporting the authority of the Authorized Version of the Holy Scriptures.
Estadístiques
Obres

199

Membres

1,479

Popularitat

#17,374

Valoració

4.5
Ressenyes

35

ISBN

88

Preferit

2

Pedres de toc

43