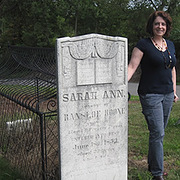 Coneixement comú
Data de naixement

Gènere

Nacionalitat

Lloc de naixement

Llocs de residència

Educació

Professions

Biografia breu

Dianne K. Salerni lives in Chester County, Pennsylvania with her husband, Bob, her two daughters, Gabrielle and Gina — when they're not at college — and her mischievous cats, Luna and Merlin. She graduated from St. Mark's High School in Wilmington, Delaware and attended the University of Delaware and the University of Pennsylvania before taking a job teaching in the Avon Grove School District. She taught fourth and fifth grade there for 25 years.

Now retired from teaching, Dianne spends her free time hanging around creepy cemeteries and climbing 2000 year-old pyramids in the name of book research. She loves visiting the Pocono Mountains of Pennsylvania, especially to ski. Since the death of her family's beloved German Shepherd, Sorcia, she has been volunteering at her local rescue animal center, CompAnimals, walking dogs and taking them on outings.

Dianne's first novel, We Hear the Dead, is a YA historical based on the real story of 19th century teenage spirit mediums Maggie and Kate Fox. We Hear the Dead was the inspiration for the Canadian-produced short film, The Spirit Game, which premiered at the 2013 Cannes Film Festival. Her second novel, another YA historical, The Caged Graves, is a Junior Library Guild Selection and was inspired by two real caged graves in an abandoned Pennsylvania cemetery.
Estadístiques
Obres

13

Membres

1,011

Popularitat

#25,500

Valoració

3.9
Ressenyes

43

ISBN

58

Llengües

1

Preferit

1

Pedres de toc

7