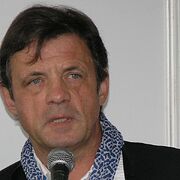 Coneixement comú
Nom normalitzat

Data de naixement

Gènere

Nacionalitat

Lloc de naixement

Llocs de residència

Educació

Professions

Premis i honors

Golden Bear Award (1980 West Berlin Film Festival)
Grand Prix Toronto
Cine Golden Eagle Award
MacArthur Fellowship (2003)
May Hill Arbuthnot Lecturer (2011)
Hans Christian Andersen Award (2012)

Biografia breu

Peter Sís is an internationally acclaimed illustrator, author, and filmmaker. Born in Brno, Czechoslovakia in 1949, he began his film career by winning the Golden Bear Award at the 1980 West Berlin Film Festival for an animated short. His film work is now in the permanent collection of the Museum of Modern Art in New York. He turned to publishing in 1984 and quickly became one of the leading artists in the field. With more than twenty books to his credit and almost as many honors, Peter is a seven-time winner of The New York Times Book Review Best Illustrated Book of the Year. Most recently, in 2007, he published The Wall: Growing up Behind the Iron Curtain, which was awarded the Robert F. Sibert Medal and was also named a Caldecott Honor Book. Peter Sís was named a MacArthur Fellow in 2003. He lives in the New York City area with his wife and children.
Estadístiques
Obres

37

També de

39

Membres

7,348

Popularitat

#3,327

Valoració

4.1
Ressenyes

424

ISBN

220

Llengües

15

Preferit

5

Pedres de toc

210