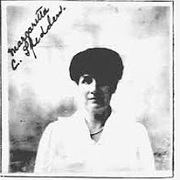 Daisy Corning Stone Spedden
(1871–1950)
Coneixement comú
Nom oficial

Data de naixement

Data de defunció

Gènere

Nacionalitat

Lloc de naixement

Lloc de defunció

Llocs de residència

Professions

Biografia breu

Margaretta "Daisy" Corning Spedden, née Stone, also known as Mrs. Frederic Oakley Spedden, was born in Morristown, New Jersey. She lived with her husband and their son Douglas in Tuxedo Park, New York.

Daisy enjoyed photography and travel and kept detailed diaries of her trips abroad.
On April 15, 1912, the family survived the sinking of the Titanic. Daisy later wrote and illustrated a small storybook about their experiences from the point of view of a teddy bear and gave it to Douglas for Christmas. Some 45 years later, Leighton H. Coleman III, a distant relative, discovered Daisy's diaries, photo albums, and the storybook in an old trunk. Eventually, the book came to the attention of Madison Press Books, which published it in 1994 under the title Polar, the Titanic Bear.