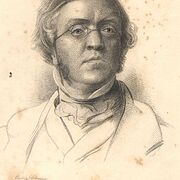 William Makepeace Thackeray
(1811–1863)
Coneixement comú
Altres noms

Fitz-Boodle, George Savage (nom de plume)
Titmarsh, Michael Angelo (nom de plume)
Yellowplush, Charles James (nom de plume)
The Fat Contributor
Solomons, Ikey

Data de naixement

Data de defunció

Lloc d'enterrament

Gènere

Nacionalitat

Lloc de naixement

Lloc de defunció

Causa de la mort

Llocs de residència

Educació

Professions

Relacions

Biografia breu

William Makepeace Thackery was second only to Charles Dickens in stature as an author during the Victorian era. His humorous and satirical writings were much in demand by periodicals, including Punch, and he was a popular lecturer. Today he's best known for his novel Vanity Fair, which is required reading in most college English courses. He experienced tragedy in his personal life due to the long deterioration and mental illness of his wife Isabella.

Nota de desambiguació

W. M. Thackeray also wrote as Charles James Yellowplush, Michael Angelo Titmarsh, George Savage Fitz-Boodle, The Fat Contributor, and Ikey Solomons.
Estadístiques
Obres

618

També de

53

Membres

21,641

Popularitat

#994

Valoració

3.8
Ressenyes

268

ISBN

1,650

Llengües

24

Preferit

61

Pedres de toc

803