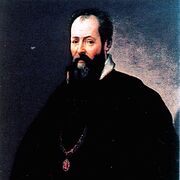 Giorgio Vasari
(1511–1574)
Coneixement comú
Nom normalitzat

Data de naixement

Data de defunció

Gènere

Nacionalitat

Lloc de naixement

Lloc de defunció

Llocs de residència

Professions

Relacions

Organitzacions

Premis i honors

Biografia breu

Giorgio Vasari, who wrote the life stories of many great Renaissance artists, some of whom he knew personally, is considered an invaluable primary source for historians as well as a founding father of art history writing. As a painter, he's best remembered for the Sala Regia at the Vatican, and as an architect for the Uffizi Palace in Florence, which was begun in 1560. He is responsible for what is called the Vasari Corridor, which connects the Uffizi with the Palazzo Pitti on the other side of the river. Also contributed to work in Santa Maria Novella, Florence and the Palazzo Vecchio in the Piazza della Signoria.

Nota de desambiguació

Please try to keep the complete - usually multi volume set - editions separate from the selections / abridged editions.
Estadístiques
Obres

264

També de

4

Membres

4,207

Popularitat

#5,976

Valoració

3.8
Ressenyes

31

ISBN

222

Llengües

13

Preferit

3

Pedres de toc

25