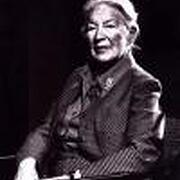 C. V. Wedgwood
(1910–1997)
Coneixement comú
Nom oficial

Altres noms

Data de naixement

Data de defunció

Lloc d'enterrament

Gènere

Nacionalitat

Lloc de naixement

Lloc de defunció

Causa de la mort

Llocs de residència

Educació

Professions

Relacions

Wedgwood, Josiah Clement (uncle)
Vaughan Williams, Ralph (father's cousin)
Hope-Wallace, Jacqueline (partner)

Organitzacions

Institute for Advanced Study, Princeton, New Jersey, USA
PEN Club (president)
Society of Authors
Somerville College, Oxford
University College London

Premis i honors

Order of Merit (1969)
Dame Commander of the Order of the British Empire (1968)
Commander of the Order of the British Empire (1956)
Goethe Medal (1958)
Order of Orange-Nassau (1946)
American Academy of Arts and Letters (1966) (

mostra-les totes

12)
Fellow, Royal Historical Society
Fellow, British Academy (1975)
James Tait Black Memorial Prize (1944)
Foreign Honorary Member, American Academy of Arts and Sciences (1973)
Fellow, American Philosophical Society (1969)
Fellow, Royal Society of Literature (1947)

Biografia breu

C.V. "Veronica" Wedgwood was an English historian who specialized in 16th and 17th century European histories, especially the English Civil War. She took a First in Modern History at Oxford University. The Independent called her the most distinguished woman historian of her time. Her acclaimed biographies include those of Oliver Cromwell, Thomas Wentworth, Earl of Strafford, William the Silent, and Cardinal Richelieu. She was a direct descendant of the famous 18th-century potter Josiah Wedgwood. Among her many volunteer roles and honors, she served as a trustee of the National Gallery and president of the Society of Authors as well as president of the International PEN Club. She was also the author of two translations: Charles V by Carl Brandi in 1939, and Elias Canetti's Die Blendung, as Auto-da-Fé, in 1946.
Estadístiques
Obres

36

També de

6

Membres

3,911

Popularitat

#6,470

Valoració

4.0
Ressenyes

39

ISBN

98

Llengües

6

Preferit

7

Pedres de toc

91