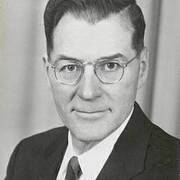 Frederic M. Wheelock
(1902–1987)
Coneixement comú
Data de naixement

Data de defunció

Gènere

Nacionalitat

Lloc de naixement

Lloc de defunció

Educació

Professions

Biografia breu

Dr. Frederic M. Wheelock, a retired classics professor who had taught at Brooklyn College and City College, died of a heart attack on Oct. 29 at Sharon (Conn.) Hospital. He was 85 years old and lived in Kent, Conn.

Dr. Wheelock taught at the two colleges from 1938 to 1952, when he moved to Cazenovia Junior College in Cazenovia, N.Y., then to the Darrow School in New Lebanon, N.Y., and finally to the University of Toledo. He was the author of several books on Latin, the most recent of which was ''Quintilian As Educator.''

He was born in Lawrence, Mass., and graduated cum laude in 1925 from Harvard University, where he later earned master's and doctorate degrees.

From the NY Times Obituary.
Estadístiques
Obres

9

Membres

4,972

Popularitat

#5,040

Valoració

4.1
Ressenyes

12

ISBN

20

Llengües

2

Preferit

1

Pedres de toc

23