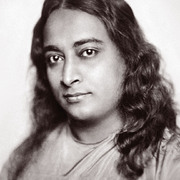 Paramahansa Yogananda
(1893–1952)
Coneixement comú
Altres noms

Data de naixement

Data de defunció

Lloc d'enterrament

Gènere

Nacionalitat

Lloc de naixement

Lloc de defunció

Causa de la mort

Organitzacions

Biografia breu

Paramhansa Yogananda (often misspelled 'Paramahansa' Yogananda) was born on January 5, 1893 in Gorakhpur, India. He was the first yoga master of India to permanently live and teach in the West. Yogananda arrived in America in 1920, and traveled throughout the United States on what he called his 'spiritual campaigns'. His enthusiastic audiences filled the largest halls in America. Hundreds of thousands came to see the yogi from India. At some packed venues thousands were turned away nightly. A national sensation, Yogananda's lectures and books were extensively written about by the major media of the era, including Time Magazine, Newsweek, and Life. He was even invited to the White House by President Calvin Coolidge. Yogananda continued to lecture and write up to his passing in 1952.Yogananda's initial impact was truly impressive. But his lasting impact has been even greater. Yogananda's "Autobiography of a Yogi", first published in 1946, helped launch a spiritual revolution throughout the world. His message was nonsectarian and universal. Yogananda's Guru, Swami Sri Yukteswar, sent him to the West with the admonition, "The West is high in material attainments, but lacking in spiritual understanding. It is God's will that you play a role in teaching mankind the value of balancing the material with an inner, spiritual life."
Yogananda brought clarity to hundreds of thousands of people regarding the ancient teachings of India - previously shrouded in the cultural assumptions and terminology of an era long past. These teachings include the path of Kriya Yoga, which Yogananda called the 'jet-airplane' route to God, consisting of ancient yoga techniques to hasten the spiritual evolution of the student.
"The true basis of religion is not belief, but intuitive experience. Intuition is the soul's power of knowing God. To know what religion is really all about, one must know God," said Paramhansa Yogananda in the book "The Essence of Self-Realization". He further wrote that "Self- Realization is the knowing in all parts of body, mind, and soul that you are now in possession of the kingdom of God; that you do not have to pray that it come to you; that God's omnipresence is your omnipresence; and that all that you need to do is improve your knowing."
Estadístiques
Obres

139

Membres

5,615

Popularitat

#4,420

Valoració

4.2
Ressenyes

75

ISBN

498

Llengües

26

Preferit

13