March 2019
Lot
Giveaway Ended

:

March 25 at 06:00 pm EDT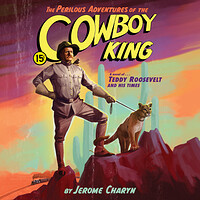 Quick Look
Raising the literary bar to a new level, Jerome Charyn re-creates the voice of Theodore Roosevelt, the New York City police commissioner, Rough Rider, and soon-to-be twenty-sixth president through his derring-do adventures, effortlessly combining superhero dialogue with haunting pathos. Beginning with his sickly childhood and concluding with McKinley's assassination, the novel positions Roosevelt as a "perfect bull in a china shop," a fearless crime fighter and pioneering environmentalist who would grow up to be our greatest peacetime president. With an operatic cast, including "Bamie," his handicapped older sister; Eleanor, his gawky little niece; as well as the devoted Rough Riders, the novel memorably features the lovable mountain lion Josephine, who helped train Roosevelt for his "crowded hour," the charge up San Juan Hill. Lauded by Jonathan Lethem for his "polymorphous imagination and crack comic timing," Charyn has created a classic of historical fiction, confirming his place as "one of the most important writers in American literature" (Michael Chabon).
Suport

Gèneres

Fiction and Literature

Ofert per

HighBridge Audio (

Editorial

)

Enllaços
November 2017
Lot
Giveaway Ended

:

November 27 at 06:00 pm EST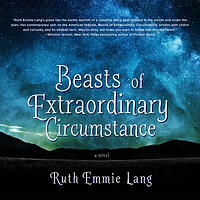 Quick Look
Stopping a tornado was the first of many strange events that seem to follow Weylyn from town to town, although he doesn't like to take credit. As amazing as these powers may appear, they tend to manifest themselves at inopportune times and places. From freak storms to trees that appear to grow over night, Weylyn's unique abilities are a curiosity at best and at worst, a danger to himself and the woman he loves. But Mary doesn't care. Since Weylyn saved her from an angry wolf on her eleventh birthday, she's known that a relationship with him isn't without its risks, but as anyone who's met Weylyn will tell you, once he wanders into your life, you'll wish he'd never leave. Beasts of Extraordinary Circumstance tells the story of Weylyn Grey's life from the perspectives of the people who knew him, loved him, and even a few who thought he was just plain weird. Although he doesn't stay in any of their lives for long, he leaves each of them with a story to tell. Stories about a boy who lives with wolves, great storms that evaporate into thin air, fireflies that make phosphorescent honey, and a house filled with spider webs and the strange man who inhabits it.
Suport

Gèneres

Fantasy, General Fiction, Fiction and Literature

Ofert per

HighBridge Audio (

Editorial

)

Enllaços