Tots els formats

Paper

1

Audiollibre digital

1
All Genres

2

General Fiction

2

Historical Fiction

1

Fiction and Literature

2
Legacy Member Giveaway
Lot
Giveaway Ended

:

May 29, 2015 at 12:20 pm EDT
Quick Look
Winner of the Pulitzer Prize for his acclaimed and bestselling novel The Orphan Master's Son, Adam Johnson is one of America's most provocative and powerful authors. In Fortune Smiles—his first book since Orphan Master—he continues to give voice to characters rarely heard from, while offering something we all seek from fiction: a new way of looking at our world. In six masterly stories, Johnson delves deep into love and loss, natural disasters, the influence of technology, and how the political shapes the personal. "George Orwell Was a Friend of Mine" follows a former warden of a Stasi prison in East Germany who vehemently denies his past, even as pieces of it are delivered in packages to his door. "Nirvana," which won the prestigious Sunday Times short story prize, portrays a programmer whose wife has a rare disease finding solace in a digital simulacrum of the president of the United States. In "Hurricanes Anonymous"—first included in the Best American Short Stories anthology—a young man searches for the mother of his son in a Louisiana devastated by Hurricanes Katrina and Rita. And in the unforgettable title story, Johnson returns to his signature subject, North Korea, depicting two defectors from Pyongyang who are trying to adapt to their new lives in Seoul, while one cannot forget the woman he left behind. Unnerving, riveting, and written with a timeless quality, these stories confirm Johnson as one of America's greatest writers and an indispensable guide to our new century.
Suport

Paper

Gèneres

General Fiction, Fiction and Literature

Ofert per

awaagner (

Altres

)

Enllaços
October 2014
Lot
Giveaway Ended

:

October 27 at 06:00 pm EDT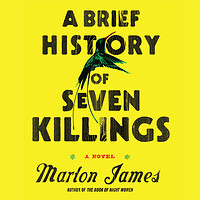 Quick Look
From the acclaimed author of The Book of Night Women comes a masterfully written novel that explores the attempted assassination of Bob Marley in the late 1970s. On December 3, 1976, just before the Jamaican general election and two days before Bob Marley was to play the Smile Jamaica Concert, gunmen stormed his house, machine guns blazing. The attack nearly killed the reggae superstar, his wife, and his manager, and injured several others. Marley would go on to perform at the free concert on December 5, but he left the country the next day, not to return for two years. Deftly spanning decades and continents and peopled with a wide range of characters—assassins, journalists, drug dealers, and even ghosts—A Brief History of Seven Killings is the fictional exploration of that dangerous and unstable time and its bloody aftermath, from the streets and slums of Kingston in the 1970s, to the crack wars in 1980s New York, to a radically altered Jamaica in the 1990s. Brilliantly inventive and stunningly ambitious, this novel is a revealing modern epic that will secure Marlon James' place among the great literary talents of his generation.
Suport

Gèneres

General Fiction, Historical Fiction, Fiction and Literature

Ofert per

HighBridge Audio (

Editorial

)

Enllaços