Tots els formats

Paper

6

Audiollibre digital

1
All Genres

7

General Fiction

3

Historical Fiction

3

Fiction and Literature

5

Recent Fiction

1

Nonfiction

2
juliol 2023
Lot
Giveaway Ended

:

July 25 at 06:00 pm EDT
A master storyteller's novel of crime, corruption, and antisemitism in early 20th-century Manhattan
Ravage & Son reflects the lost world of Manhattan's Lower East Side—the cradle of Jewish immigration during the first years of the twentieth century—in a dark mirror.
Abraham Cahan, editor of the Jewish Daily Forward, serves as the conscience of the Jewish ghetto teeming with rogue cops and swindlers. He rescues Ben Ravage, an orphan, from a trade school and sends him off to Harvard to earn a law degree. But upon his return, Ben rejects the chance to escape his gritty origins and instead becomes a detective for the Kehilla, a quixotic gang backed by wealthy uptown patrons to help the police rid the Lower East Side of criminals. Charged with rooting out the Jewish "Mr. Hyde," a half-mad villain who attacks the prostitutes of Allen Street, Ben discovers that his fate is irrevocably tied to that of this violent, sinister man.
A lurid tale of revenge, this wildly evocative, suspenseful noir is vintage Jerome Charyn.
Suport

Paper

Gèneres

General Fiction, Historical Fiction, Fiction and Literature

Ofert per

Bellevue Literary Press (

Editorial

)

Enllaços
December 2020
Lot
Giveaway Ended

:

December 28 at 06:00 pm EST
A shattering biographical novel of J.D. Salinger in combat "[A] literary tour de force. . . . Charyn vividly portrays [J.D. Salinger's] journey from slick short story writer to suffering artist. The winning result humanizes a legend." —Publishers Weekly (starred review) J.D. Salinger, mysterious author of The Catcher in the Rye, is remembered today as a reclusive misanthrope. Jerome Charyn's Salinger is a young American WWII draftee assigned to the Counter Intelligence Corps, a band of secret soldiers who trained with the British. A rifleman and an interrogator, he witnessed all the horrors of war. After the war, maladjusted to civilian life, he lived like a "spook," with invisible stripes on his shoulder, the ghosts of the murdered inside his head, and stories to tell. Grounded in biographical fact and reimagined as only Charyn could, Sergeant Salinger is an astonishing portrait of a devastated young man on his way to becoming the mythical figure behind a novel that has marked generations.
Suport

Paper

Gèneres

General Fiction, Recent Fiction, Historical Fiction, Fiction and Literature

Ofert per

Bellevue Literary Press (

Editorial

)

Enllaços
November 2019
Lot
Giveaway Ended

:

November 25 at 06:00 pm EST
A spy navigates the labyrinthine horrors of Nazi Germany, on a mission to save the woman he loves "Spectacular. . . . This extraordinary tour de force showcases [Jerome Charyn] at the top of his game." —Publishers Weekly (starred review) "[An] edgy, hallucinatory, full-throttle fable. Cabaret, Moby-Dick, Shakespeare, Rosa Luxembourg, 'Jewish jazz,' traveling executioners dubbed Hansel and Gretel, a hump-backed baron—they're all in the mix. A darkly entertaining, eye-opening novel." —Kirkus Review (starred review)
Suport

Paper

Gèneres

General Fiction, Historical Fiction, Fiction and Literature

Ofert per

Bellevue Literary Press (

Editorial

)

Enllaços
March 2019
Lot
Giveaway Ended

:

March 25 at 06:00 pm EDT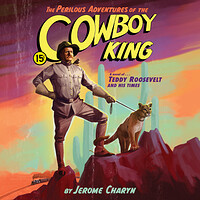 Quick Look
Raising the literary bar to a new level, Jerome Charyn re-creates the voice of Theodore Roosevelt, the New York City police commissioner, Rough Rider, and soon-to-be twenty-sixth president through his derring-do adventures, effortlessly combining superhero dialogue with haunting pathos. Beginning with his sickly childhood and concluding with McKinley's assassination, the novel positions Roosevelt as a "perfect bull in a china shop," a fearless crime fighter and pioneering environmentalist who would grow up to be our greatest peacetime president. With an operatic cast, including "Bamie," his handicapped older sister; Eleanor, his gawky little niece; as well as the devoted Rough Riders, the novel memorably features the lovable mountain lion Josephine, who helped train Roosevelt for his "crowded hour," the charge up San Juan Hill. Lauded by Jonathan Lethem for his "polymorphous imagination and crack comic timing," Charyn has created a classic of historical fiction, confirming his place as "one of the most important writers in American literature" (Michael Chabon).
Suport

Gèneres

Fiction and Literature

Ofert per

HighBridge Audio (

Editorial

)

Enllaços
June 2018
Lot
Giveaway Ended

:

June 25 at 06:00 pm EDT
A lyrical autobiography in essays from a celebrated author, honoring outlier artists and other heroes and villains who inspired him "With his customary linguistic verve and pulsing imagination, Jerome Charyn serves up here some of the tastiest essay writing available. He knows and loves New York past and present, and he draws on a lifetime of raucous experience and dedicated reading for a rich, heady, satisfying brew." —Philip Lopate, editor of The Art of the Personal Essay and author of A Mother's Tale "Deeply personal. . . . Readers will delight in encountering Charyn's New York City. . . . From his ruminations on seeing classic studio-era films during his South Bronx childhood in the 1940s and '50s to an account of a day spent with Mayor Ed Koch in the mid-'80s, Charyn's prose enchants." —Publishers Weekly "Lively essays. . . . A very personal view of the past artfully brought to vivid life." —Kirkus Reviews In the New York Review of Books, Joyce Carol Oates expressed her admiration for an equally prolific contemporary: "Among Charyn's writerly gifts is a dazzling energy. . . . [He is] an exuberant chronicler of the mythos of American life"; the Los Angeles Times described him as "absolutely unique among American writers." In these ten essays, Charyn shares personal stories about places steeped in history and myth, including his beloved New York, and larger-than-life personalities from the Bible and from the worlds of film, literature, politics, sports, and the author's own family. Together, writes Charyn, these essays create "my own lyrical autobiography."
January 2017
Lot
Giveaway Ended

:

Gener 30 a 06:00 pm EST
A startling novel of a celebrated author whose life was warped by war, shrouded in mystery, and broken by scandal "Jerome Charyn is one of the most important writers in American literature." —Michael Chabon "Charyn skillfully breathes life into historical icons." —New Yorker "The rise and fall of novelist Jerzy Kosinski (1933-1991) emerges in an offbeat way . . . through Charyn's resourceful imagination and always-colorful, punchy, provocative prose." —Kirkus Reviews (starred review) Jerzy Kosinski was a great enigma of post-World War II literature. When he exploded onto the American literary scene in 1965 with his best-selling novel The Painted Bird, he was revered as a Holocaust survivor and refugee from the world hidden behind the Soviet Iron Curtain. He won major literary awards, befriended actor Peter Sellers (who appeared in the screen adaptation of his novel Being There), and was a guest on talk shows and at the Oscars. But soon the facade began to crack, and behind the public persona emerged a ruthless social climber, sexual libertine, and pathological liar who may have plagiarized his greatest works. Jerome Charyn lends his unmistakable style to this most American story of personal disintegration, told through the voices of multiple narrators—a homicidal actor, a dominatrix, and Joseph Stalin's daughter—who each provide insights into the shifting facets of Kosinski's personality. The story unfolds like a Russian nesting doll, eventually revealing the lost child beneath layers of trauma, while touching on the nature of authenticity, the atrocities of WWII, the allure of sadomasochism, and the fickleness of celebrity.
January 2016
Lot
Giveaway Ended

:

February 1 at 06:00 pm EST
A passionate and deeply researched reassessment of Emily Dickinson's life and singular legacy in American arts and letters "[A] lively reassessment." —Publishers Weekly (starred review) "Remarkable insight . . . [a] unique meditation/investigation. . . . Jerome Charyn the unpredictable, elusive, and enigmatic is a natural match for Emily Dickinson, the quintessence of these." —Joyce Carol Oates We think we know Emily Dickinson: the Belle of Amherst, virginal, reclusive, and possibly mad. But in A Loaded Gun, Jerome Charyn Charyn (author ofThe Secret Life of Emily Dickinson: A Novel) introduces us to a different Emily Dickinson: the fierce, brilliant, and sexually charged poet who wrote: My Life had stood—a Loaded Gun— … Though I than He— may longer live He longer must—than I— For I have but the power to kill, Without—the power to die— Through interviews with contemporary scholars, close readings of Dickinson's correspondence and handwritten manuscripts, and a suggestive, newly discovered photograph that is purported to show Dickinson with her lover, Charyn's literary sleuthing reveals the great poet in ways that have only been hinted at previously: as a woman who was deeply philosophical, intensely engaged with the world, attracted to members of both sexes, and able to write poetry that disturbs and delights us today.