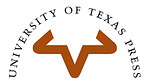 The University of Texas Press publishes scholarly works and general interest titles in areas such as Latin American studies, anthropology, Texas history and culture, art and photography, Middle Eastern studies, film & media studies, natural history, and ancient Greece and Rome.
Pàgina d'inici

Twitter

Facebook
June 2019
Lot
Giveaway Ended

:

June 24 at 06:00 pm EDT
Beyond Market Value chronicles Annette Campbell-White's remarkable life, from a childhood spent in remote mining camps throughout the British Commonwealth, where books created an imaginary home; to her early adulthood in London, where she first discovered a vocation as a book collector; to Silicon Valley, where she built a pioneering career as a formidable venture capitalist. She recalls the impulsive purchase of the first book in her collection, T. S. Eliot's A Song for Simeon, and her pursuit of rare editions of all one hundred titles listed in Cyril Connolly's The Modern Movement. Campbell-White's collecting and career peaked in 2005, when she acquired the last of the Connolly titles and was first named to Forbes' Midas List, the annual ranking of the most successful dealmakers in venture capital. In 2007, out of concern for their preservation, Campbell-White rashly sold the Connolly titles she had spent more than twenty years assembling, leading to a new appreciation of what remained of her collection and, going forward, a broader focus on collecting modernist letters, manuscripts, and ephemera. Beyond Market Value is both a loving tribute to literary collecting and a telling account of the challenges of being a woman in the male-dominated world of finance. Annette Campbell-White was the first biotechnology analyst on Wall Street and the first female partner at Hambrecht & Quist, a leading investment banking firm. She founded MedVenture Associates, a venture capital business that, over time, created more than $5 billion in cumulative value. She appeared on Forbes' Midas List from 2005–2007. She is a committed supporter of the arts, having established the Kia Ora Foundation in 1997.