Indigenous Peoples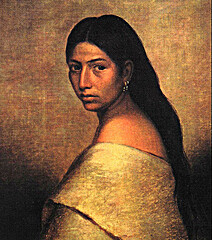 Aquest grup està oficialment inactiu. Són coses que passen.
If you want to revive this group, or create a new group on the same topic, see this page.
We read and discuss books about indigenous peoples (First Nations, American Indians, Alaska Natives, Pacific Islanders, Maori people, Indigenous Australians, and all these folks). Fiction, non-fiction, history, social sciences, poetry, journalism — you name it.
Tema

Tema

Missatges

Últim missatge

Should Columbus Day be renamed?

14 no llegits

/ 14

Muscogulus

,

setembre

2021
Tag books with "American Indian" or "Native American"?

8 no llegits

/ 8

MacAndrew

,

març

2019
Indigenous people's wisdom

9 no llegits

/ 9

Diane-bpcb

,

juliol

2017
Making a saint of California's imperial priest

2 no llegits

/ 2

Muscogulus

,

març

2016
Common Knowledge: A "tribe" is not a "character" in a book

3 no llegits

/ 3

elenchus

,

juliol

2015
What 'indigenous' books have you reviewed?

13 no llegits

/ 13

elenchus

,

juny

2015
For recent news

1 no llegit

/ 1

Urquhart

,

juny

2015
In the news..........

8 no llegits

/ 8

Muscogulus

,

gener

2015
Long poems about American Indians

3 no llegits

/ 3

Muscogulus

,

gener

2015
New Books

2 no llegits

/ 2

Muscogulus

,

novembre

2014
Who wrote "The Education of Little Tree"?

4 no llegits

/ 4

TLCrawford

,

juliol

2014
children's books by indigenous authors

2 no llegits

/ 2

Muscogulus

,

juny

2014
A Native scholar looks at Western Civ

2 no llegits

/ 2

Urquhart

,

juny

2014
Navajo creation story

3 no llegits

/ 3

Muscogulus

,

gener

2014
Thanksgiving

2 no llegits

/ 2

TLCrawford

,

desembre

2013
Indigenous PeoplesDay

5 no llegits

/ 5

TLCrawford

,

octubre

2013
Australia's first indigenous woman in Parliament

1 no llegit

/ 1

Muscogulus

,

setembre

2013
Maori love song in the news

3 no llegits

/ 3

Muscogulus

,

setembre

2013
American Indian history today.........

4 no llegits

/ 4

Rood

,

juny

2013
American Indian History from the Indian side

6 no llegits

/ 6

Rood

,

juny

2013
Indian Activism

1 no llegit

/ 1

Urquhart

,

gener

2013
Books on Indigenous People

4 no llegits

/ 4

Muscogulus

,

setembre

2012
How "Wazhazhe" became "Osage"

1 no llegit

/ 1

Muscogulus

,

maig

2012
Native American History and that of Capitalism

2 no llegits

/ 2

Muscogulus

,

maig

2012
Miscellaneous

7 no llegits

/ 7

Urquhart

,

desembre

2011
The All Blacks and the Maōri haka

1 no llegit

/ 1

Muscogulus

,

octubre

2011
Native American Issues in the News

3 no llegits

/ 3

Muscogulus

,

octubre

2011
Tagged the group yet?

1 no llegit

/ 1

Muscogulus

,

abril

2011
Indigenous authors: fiction

4 no llegits

/ 4

somermoore

,

abril

2011
Bookpiles in indigenous languages?

2 no llegits

/ 2

Muscogulus

,

abril

2011
Non-fiction books about indigenous people

2 no llegits

/ 2

Muscogulus

,

abril

2011
Indigenous authors: non-fiction

3 no llegits

/ 3

Urquhart

,

abril

2011
Why do book Indians say 'ugh'?

12 no llegits

/ 12

Muscogulus

,

abril

2011
Bureau of American Ethnology reprints

6 no llegits

/ 6

Muscogulus

,

març

2011
This is a feature balloon