The Witches of LibraryThing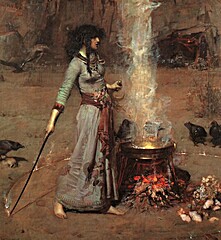 Aquest grup està oficialment inactiu. Són coses que passen.
Si vols reviscolar aquest grup o bé crear-ne un de nou sobre el mateix tema mira aquesta pàgina.
Wiccans or Non-Wiccans. Covened or Solitaries. Christo-Pagans, Folk Catholics, Spiritual Workers. Hoodoos, Rootworkers, Conjure Men and Women. Feri Witches and Folk Magicians. If you practice Witchcraft and/or consider yourself a Witch, this group is for you! Let's talk about our favorite books and support one another on the journey.
Tema

Tema

Missatges

Últim missatge

Welcome and introductions

53 no llegits

/ 53

PhaedraB

,

juny

2015
Recommend any good books

8 no llegits

/ 8

Brian_Whiteman

,

febrer

2014
Free today thru 12/31 - Best Fantasy Finalist New Mexico Arizona Book Awards

2 no llegits

/ 2

Brian_Whiteman

,

juny

2013
Pagan Reading Category Challenge for 2013

2 no llegits

/ 2

dizzylizzy

,

abril

2013
Casting A Spell On Someone. #1 Witch of the week..

2 no llegits

/ 2

Kyle_Cahill

,

octubre

2012
The Phoenix Moon Community Book Store

3 no llegits

/ 3

Bidwell-Glaze

,

novembre

2011
Welcome to Siobhon's Tavern, a place for n00bs, and oldtimers get to gather. What's your poison?

19 no llegits

/ 19

SidheRocks

,

juliol

2011
spirit of real GODS & GODDESSES

5 no llegits

/ 5

knosha

,

maig

2011
Tarot Card Reading# 1

1 no llegit

/ 1

knosha

,

maig

2011
Hello!

13 no llegits

/ 13

knosha

,

maig

2011
What are you reading now?

27 no llegits

/ 27

ddfbryant

,

abril

2011
Trancework?

3 no llegits

/ 3

MarionII

,

abril

2010
Anyone else have a "conversion attempt" tag?

14 no llegits

/ 14

MarionII

,

abril

2010
Old v. New

5 no llegits

/ 5

Dead_Dreamer

,

abril

2010
Footnotes, endnotes, bibliography

3 no llegits

/ 3

Sile

,

abril

2010
The Witches Of Eastwick TV Series

4 no llegits

/ 4

beatles1964

,

setembre

2009
Reviewers Needed!

4 no llegits

/ 4

Sile

,

març

2009
Pagan Authors of Fiction

8 no llegits

/ 8

EmScape

,

juny

2008
What about this book?

1 no llegit

/ 1

lindall

,

març

2008
Recommend

9 no llegits

/ 9

lindall

,

març

2008
So.....

11 no llegits

/ 11

Magelet33

,

gener

2008
Need some info.

5 no llegits

/ 5

Ethereal_Raven

,

gener

2008
New publishing house which may interest some here...

4 no llegits

/ 4

lupagreenwolf

,

novembre

2007
Interesting

1 no llegit

/ 1

Blood_Dust

,

maig

2007
This is a feature balloon