The Haunted Soda: A Yarn in 3 Parts by the Literati of LT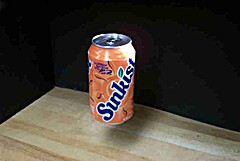 Aquest grup està oficialment inactiu. Són coses que passen.
Si vols reviscolar aquest grup o bé crear-ne un de nou sobre el mateix tema mira aquesta pàgina.
In this thread, people add five words per post to the story to create an award winning novel that will eventually win the prestigious Booker Prize. Hahaha!

It can be a thriller . . . perhaps the soda is irradiated or there's a homing device embedded in the barcode! Or it can be a horror story! Perhaps the soda is haunted. It can be a romance! Perhaps the soda was brewed with tears (a la "Like Water for Chocolate). It can be a comedy. Perhaps we can tell the story from the soda's point of view as its canned in China! Yes, it can be a travel book. It could be science fiction. Perhaps the can is made up of some alien metal that sings when it stands near ketchup.

It may even take years before a can shows up in this story! It could be all these . . . all at the same time.

Anyway, I thought it might be interesting to see what kind of story . . . book lovers come up with.

Here We Go!


Tema

Tema

Missatges

Últim missatge

The Haunted Soda, Part III: Chapter 16

187 no llegits

/ 187

rolandperkins

,

abril

2017
The Haunted Soda, Part III: Chapter 15

541 no llegits

/ 541

rolandperkins

,

novembre

2012
The Haunted Soda, Part III: Chapter 14

359 no llegits

/ 359

quartzite

,

maig

2010
Looseleaf Epic: "Coherent" Version

44 no llegits

/ 44

quartzite

,

maig

2010
Literary Criticism for the Collective

102 no llegits

/ 102

quartzite

,

gener

2010
The Haunted Soda, Part II: Chapter 13

384 no llegits

/ 384

quartzite

,

gener

2010
Chapter 11: The Haunted Soda

338 no llegits

/ 338

quartzite

,

agost

2009
Chapter 11: The Haunted Soda

313 no llegits

/ 313

quartzite

,

juny

2009
The Haunted Soda: Part II -Chapter Ten

398 no llegits

/ 398

quartzite

,

març

2009
Two Years and Still Going!

3 no llegits

/ 3

hailelib

,

febrer

2009
Chapter Nine: The Haunted Soda

321 no llegits

/ 321

quartzite

,

desembre

2008
Chapter 8: The Haunted Soda

315 no llegits

/ 315

beatles1964

,

octubre

2008
Chapter 7: The Haunted Soda

274 no llegits

/ 274

quartzite

,

juliol

2008
Chapter 6: The Haunted Soda

317 no llegits

/ 317

quartzite

,

juny

2008
Chapter 5: The Haunted Soda

334 no llegits

/ 334

quartzite

,

abril

2008
Chapter 4 - The Haunted Soda

353 no llegits

/ 353

quartzite

,

febrer

2008
rules?

87 no llegits

/ 87

TrailOfLeaves

,

setembre

2007
The Thing in the Manuscript

16 no llegits

/ 16

MyopicBookworm

,

setembre

2007
The Thing in the library Book two: A Complex Web

36 no llegits

/ 36

jayqq1953

,

agost

2007
The Thing in Cliff's Notes Vol Two

28 no llegits

/ 28

jayqq1953

,

agost

2007
The Thing in Cliff's Notes

177 no llegits

/ 177

stuartbig

,

juny

2007
The Thing in the Library

114 no llegits

/ 114

MyopicBookworm

,

març

2007
Chapter 3 - The Haunted Soda

282 no llegits

/ 282

localpeanut

,

febrer

2007
Cliff Notes of the Damned

41 no llegits

/ 41

localpeanut

,

febrer

2007
Chapter 2 - The Haunted Soda

316 no llegits

/ 316

localpeanut

,

gener

2007
January 23, 2007: To the Scribblers of The Haunted Soda

21 no llegits

/ 21

mrgrooism

,

gener

2007
Psychic connections

4 no llegits

/ 4

BTRIPP

,

gener

2007
Chapter 1

337 no llegits

/ 337

localpeanut

,

gener

2007
A most poetic passage!

2 no llegits

/ 2

localpeanut

,

gener

2007
fascinating ...

6 no llegits

/ 6

kurtabeard

,

gener

2007
This is a feature balloon