Art Digital Libraries and e-Learning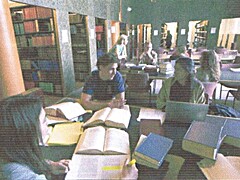 Aquest grup està oficialment inactiu. Són coses que passen.
Si vols reviscolar aquest grup o bé crear-ne un de nou sobre el mateix tema mira aquesta pàgina.
This discussion group seeks to engage a CONVERSATION FORUM, a dialogue territory and a debate arena about themes in the areas associated to the chair ' Digital Libraries and and-learning ', within the Master of Art untitled 'Artistic Education' (2006-2007), at the Faculty of Fine Arts at the University of Lisbon (FBAUL). These areas are ART, EDUCATION, DIGITAL TECHNOLOGIES and eventually SOCIAL AND HUMAN SCIENCES related with the precedent areas. The articulation between this class and information and learning communities developed at local or global level, will be encouraged. The central objective is to prepare students for research within 'Artistic Education' Master of Art courses.
Examples of conversations and dialogues topics:
- discuss the form and the results obtained trough the tasks contributing to the constitution of the DIGITAL LIBRARY within the chair ' Digital Libraries and e-learning ' (Use' Your Library' and ' Talk').
- debate research METHODOLOGIES, necessary for this class tasks and for the Master of Art seminar: see 'Methodological Readers' and other materials supplied by the teacher (Use' Talk').
- discuss SOCIAL INFORMATION obtained inside the virtual classes achieved between the teacher and the students, or between groups of students, or between the previous ones and Library Thing virtual community (Use' Zeitgesit', ' Groups', ' Blog' and ' Talk').
- in this context of social information, within local and global levels, the diffusion of BOOKS, ESSAYS AND LITERATURE WORKS IN PORTUGUESE LANGUAGE (Use' Your Library' and ' Talk').
- exchange ideas about the BOOK EVALUATIONS articulated to the profiles of the digital library building members (Use' Profiles' and ' Talk').
- reflect on the relevance of VIRTUAL COMMUNITY AROUND COLLABORATIVE LEARNING across the Portuguese education system and beyond. (Use' Talk')
- in particular, rethink the pertinence of digital libraries and e-learning within the TEACHING SYLLABUS in Licenses, Masters of Art, PhDs and post-PhDs in Portugal and at planetary level (Use' Talk').

Este grupo de discussão visa formar um FORUM DE CONVERSAS, diálogo e debate sobre temas nas áreas associadas à cadeira 'Bibliotecas Digitais e e-learning', no Mestrado e Educação Artística (2006-2007), da Faculdade de Belas Artes da Universidade de Lisboa (FBAUL). Estas áreas são: ARTE, EDUCAÇÃO, TECNOLOGIAS DIGITAIS e eventualmente CIÊNCIAS SOCIAIS E HUMANAS relacionadas com as áreas precedentes. A articulação entre a disciplina e comunidades de informação e de aprendizagem desenvolvidas a nível local ou global será encorajada. O objectivo central é preparar os alunos para a investigação no Mestrado 'Educação Artística'.
Exemplos de tópicos de conversas e diálogos:
- discutir a forma e os resultados obtidos através das tarefas que contribuem para a constituição da BIBLIOTECA DIGITAL, na cadeira 'Bibliotecas Digitais e e-learning' (Usar 'Your Library' e 'Talk').
- debater METODOLOGIAS da investigação, necessárias para os trabalhos na disciplina e no seminário de mestrado: ver Cadernos Metodológicos e outros materiais fornecidos pelo professor (Usar 'Talk').
- discutir a INFORMAÇÃO SOCIAL obtida na comunicação no interior das aulas virtuais entre o professor e os estudantes, ou entre os diversos grupos de alunos, ou ainda entre os anteriores e a comunidade virtual do Library Thing (Usar 'Zeitgesit', 'Groups', 'Blog' e 'Talk').
- neste contexto de informação social, nos planos local e global, divulgar LIVROS, ENSAIOS E OBRAS LITERÁRIAS EM LÍNGUA PORTUGUESA (Usar 'Your Library' e 'Talk').
- trocar ideias sobre as AVALIAÇÕES DE LIVROS efectuadas, articuladas aos perfis dos membros construtores da biblioteca digital (Usar 'Profiles' e 'Talk').
- reflectir acerca da oportunidade das COMUNIDADES DE APRENDIZAGEM COLABORATIVA (Usar 'Talk') no sistema de educação em Portugal.
- em particular, repensar a pertinência das bibliotecas digitais e do e-learning nos PROGRAMAS DE ENSINO em licenciaturas, mestrados, doutoramentos e pós-doutoramentos em Portugal e a nível planetário (Usar 'Talk').


Tema

Tema

Missatges

Últim missatge

[Untitled topic]

2 no llegits

/ 2

Ms.Turtle

,

setembre

2011
Tambem jã tenho um blog

13 no llegits

/ 13

melartesvisuais

,

març

2009
Já tenho blog!

1 no llegit

/ 1

mariajoana

,

febrer

2009
Já tenho blog!

1 no llegit

/ 1

mariajoana

,

febrer

2009
Mais um...blog!!!

1 no llegit

/ 1

scarlat.margarida

,

febrer

2009
Indico o livro...

2 no llegits

/ 2

scarlat.margarida

,

febrer

2009
Portfolio

2 no llegits

/ 2

joaomiguel21

,

gener

2009
art and education blogs / blogs de arte e educação

21 no llegits

/ 21

p.andrade

,

abril

2007
art lessons in Power Point and Flash / lições em Power Point e Flash

20 no llegits

/ 20

nitaafonso

,

abril

2007
Portuguese books, essays and art works diffusion / difusão de livros, ensaio e obras de arte Portug

10 no llegits

/ 10

anamartins

,

març

2007
notes and news / notas e notícias

2 no llegits

/ 2

p.andrade

,

febrer

2007
art social information / informação social da arte

1 no llegit

/ 1

p.andrade

,

febrer

2007
art learning communities / comunidades de aprendizagem artísticas

1 no llegit

/ 1

p.andrade

,

febrer

2007
artistic readings and literacies / leituras e literacias artísticas

1 no llegit

/ 1

p.andrade

,

febrer

2007
Art education in Portugal / A educação artística em Portugal

1 no llegit

/ 1

p.andrade

,

febrer

2007
educative methods and artistic research / metodologias educativas e investigação artística

1 no llegit

/ 1

p.andrade

,

febrer

2007
art digital libraries / bibliotecas de arte digitais

4 no llegits

/ 4

p.andrade

,

febrer

2007
art digital library

1 no llegit

/ 1

p.andrade

,

gener

2007
art digital ibraries

1 no llegit

/ 1

p.andrade

,

gener

2007
This is a feature balloon