Star Wars Books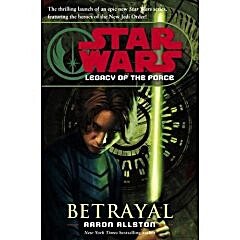 Aquest grup està vegetant de forma oficial. Són coses que passen.
Si vols reviscolar aquest grup o bé crear-ne un de nou sobre el mateix tema mira aquesta pàgina.
This is a group for people who read and enjoy books - comics specifically about and/or taking place in the Star Wars Universe. Given that there are almost 200 fiction books that have been published and countless nonfiction books there should be plenty to talk about and enjoy.
Tema

Tema

Missatges

Últim Missatge

Star Wars Books Message Board

30 per llegir

/ 30

aratiel

,

setembre

2018
"Legends" vs Canon

3 per llegir

/ 3

saltmanz

,

febrer

2017
Star Wars Reads Day

3 per llegir

/ 3

tottman

,

octubre

2013
Disney buys Lucasfilm

1 per llegir

/ 1

Cecrow

,

octubre

2012
Stan Lee Excelsior Award for graphic novels and manga

1 per llegir

/ 1

Echobrain

,

març

2012
Darth Vader's Greatest Speech

1 per llegir

/ 1

AngelaB86

,

desembre

2011
The New Jedi Series

3 per llegir

/ 3

beatles1964

,

juliol

2011
The New Jedi Order Series

1 per llegir

/ 1

beatles1964

,

abril

2011
The next Star Wars movie?

10 per llegir

/ 10

Echobrain

,

març

2011
Lives of Original Characters

5 per llegir

/ 5

Cecrow

,

gener

2011
Daniel Wallace

1 per llegir

/ 1

SimonW11

,

setembre

2010
A Disturbance in the Force

1 per llegir

/ 1

BOB81

,

juliol

2010
And the Empire built TWO!

2 per llegir

/ 2

pazaakshark

,

juny

2010
Recognize this book?

3 per llegir

/ 3

AngelaB86

,

maig

2009
Legacy of the Force

6 per llegir

/ 6

Aniwanskyobi

,

març

2009
Surely there must be more..

2 per llegir

/ 2

AnotherPartOfMeLost

,

febrer

2009
Star Wars Series

3 per llegir

/ 3

tjsjohanna

,

abril

2008
Sure is quiet around here....

7 per llegir

/ 7

runi

,

març

2008
Jedi Quest YA books

20 per llegir

/ 20

AngelaB86

,

setembre

2007
This place is a ghost town

8 per llegir

/ 8

Cydon

,

juny

2007
This is a feature balloon